April 21
[{(o)}]|[{(o)}]|[{(o)}]|[{(o)}]| [{(o)}]|[{(o)}]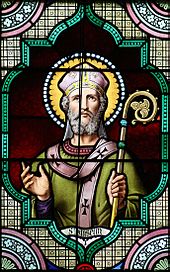 1109 – Died: St Anselm of Canterbury (born c.1033) UK English Archbishop, whose letters to his circle of close male friends read like homoerotic love letters. It was reported that Anselm wrote many letters to monks, male relatives and others that contained passionate expressions of attachment and affection. These letters were typically addressed "dilecto dilectori", sometimes translated as "to the beloved lover." While there is wide agreement that Anselm was personally committed to the monastic ideal of celibacy, some academics, including Brian P. McGuire and John Boswell have characterized these writings as expressions of a homosexual inclination.
He is also notable for dismissing a resolution from the Council of London in 1102 for harsh penalties for men guilty of sodomy, declaring that homosexuality was widespread and few men were embarrassed by it or had even been aware it was a serious matter; he felt that although sodomites should not be admitted to the priesthood, confessors should take into account mitigating factors such as age and marital status before prescribing penance, and he advised counselling rather than punishment.

1806 – English sailor James Jones receives 24 lashes for sex with another sailor. One month earlier, he had received 18 for a similar offense.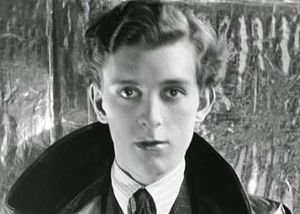 1906 – The British writer and aristocrat Stephen Tennant was born on this date (d.1987). Best known for his decadent lifestyle, it is said, albeit apocryphally, that he spent most of his life in bed. He was born in England, the youngest son of a Scots peer, Lord Glenconner, and the former Pamela Wyndham, one of The Souls. His mother was also a cousin of Lord Alfred Douglas , Oscar Wilde's lover and a sonneteer. On his father's death, Tennant's mother married Lord Grey, a fellow bird-lover. Tennant's eldest brother was Edward - "Bim" - who was killed in the First World War. During the twenties and thirties, Tennant was an important member - the "Brightest", it is said - of the "Bright Young People." His friends included Rex Whistler, Cecil Beaton, the Sitwells, Lady Diana Manners and the Mitford girls part of the set that made the Nordstrom Sisters popular at The Ritz in 1939. He is widely considered to be the model for Cedric Hampton in Nancy Mitford's novel Love in a Cold Climate; one of the inspirations for Lord Sebastian Flyte in Evelyn Waugh's Brideshead Revisited, and a model for Hon. Miles Malpractice in some of his other novels.
Also during the 1920s and 1930s, Tennant had an affair with the poet Siegfried Sassoon. Prior to this he had proposed to a friend, the novelist Elizabeth Bowen, but had been rejected. (Hoare relates how Tennant discussed plans with Bowen about bringing his Nanny with them on their honeymoon.) His relationship with Sassoon, however, was to be his most important: it lasted some four years before Tennant off-handedly put an abrupt end to it. Sassoon was reportedly depressed afterwards for three months, until Sassoon married in 1933 and became a father in 1936.
For most of his life, Tennant tried to start or finish a novel - Lascar. It is popularly believed that he spent the last 17 years of his life in bed at his family manor at Wilsford, Wiltshire, which he had redecorated by Syrie Maugham. Though undoubtedly idle, he was not truly lethargic: he made several visits to the United States and Italy, and struck up many new friendships, despite his later reputation as a recluse. This became increasingly true only towards the last years of his life. Yet even then, his life was not uneventful: he became landlord to V.S. Naipaul who immortalised Tennant in his novel The Enigma of Arrival. When Tennant died in 1987, he had far outlived most of his contemporaries.

1916 – The Georgia Supreme Court rules that both parties in an act of fellatio are principals.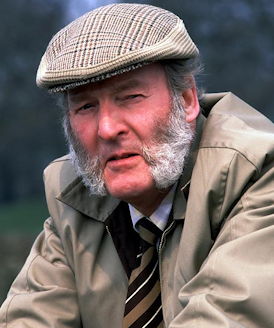 1920 – Ronald Magill (d.2007) was an English actor. He is best remembered for playing Amos Brearly in the British soap opera Emmerdale Farm from 1972 to 1991, and appeared again in this role in 1994 and 1995.
Ronald Magill was born in 1920 in Hull. The child of two teachers, his father died when he was aged 9 and he then grew up in an orphanage in Birmingham, visiting his mother in Ireland during the holidays. After leaving school he became a tyre salesman.During World War II Magill served in the Royal Corps of Signals and was a member of "Stars in Battledress". In Egypt he helped build a theatre where the company staged plays.
Following the war, he worked with the Arena Theatre Company and rep. In 1963 he went to work at the Playhouse, Nottingham, where he was later made artistic director and he stayed there until 1968. Magill directed many productions, and also wrote plays and translated others into English. He starred in the West End production of The Ruling Class and appeared at the Bristol Old Vic in Death of a Salesman and The Browning Version. His first television appearances were in 1969, in the programmes Special Branch and Parkin's Patch, and the following year appeared in the film Julius Caesar.
Ronald Magill joined the cast of Emmerdale Farm when the soap opera launched on 16 October 1972. He played Amos Brearly, a character who co-ran The Woolpack with Henry Wilks and they became a double act for the next 19 years. His bushy sideburns, which he became famous for, were the result of having come to the audition from playing an Edwardian in a stage play and he was told they were perfect for the part.
Magill's boyfriend of 32 years, David Soar, died in 1997. Ten years later in 2007, Ronald Magill died aged 87.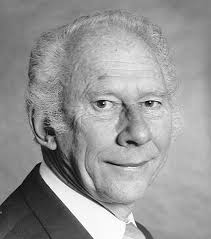 1930 – Alec Bregonzi (d.2006) was an English actor who appeared in a number of stage and television roles.
Bregonzi began his career as a professional actor in 1955 in repertory theatre in Farnham, then in York, Bromley and Leatherhead, amongst other places. Work in the West End followed, in Tennessee Williams' Camino Real, where he played two parts and understudied Ronnie Barker.
In 1957, Bregonzi appeared in Hancock's Half Hour for the first time. He went on to appear in 22 of the 63 television episodes Tony Hancock made for BBC Television. In 1958, Bregonzi toured with Hancock, and they performed the famous "Budgerigar" sketch together on tour and in the Royal Variety Performance and on television (in Christmas Night with the Stars). They toured together again in 1961. Bregonzi maintained his association with Hancock for the rest of his life.
Duncan Wood, the television director of Hancock's Half Hour recommended Bregonzi to other directors, so that he also appeared in 1950s/60s shows starring Benny Hill, Charlie Drake, Arthur Askey, Ted Ray, Frankie Howerd, Harry Worth, Jimmy Logan, and Alan Melville, among others. He specialised in the roles of camp vicars, waiters and hairdressers. In Kenny Everett's TV shows he was Clint Bente and had no compunction about portraying himself as he was, a flamboyant, gregarious gay man.
Later on, Bregonzi worked on half a dozen occasions in the television series The Two Ronnies (with Ronnie Barker and Ronnie Corbett) and Filthy Rich and Catflap (1987). In 'straight' television, he appeared in The Recruiting Officer (Play of the Month, 1973), The Mayor of Casterbridge (1978), Don Camillo (1981), Great Expectations (1981), The Barchester Chronicles (1982), Mapp & Lucia (1986), London's Burning (1988), A Royal Scandal (1997), and Happiness (2001), his last screen role.
Bregonzi read viewers' letters for BBC TV's Points of View, which led to a radio series Joke By Joke. He also appeared in radio comedy with Kenneth Connor, Richard Briers and others. In 1995-1997, he played the voice parts of several characters in the puppet series The Treacle People.
He appeared in several films, including the French film L'Etincelle (1986), which he regarded as his best film part.
In interviews, Bregonzi spoke about his youth. As early as the 1940s he answered coded personal ads in the fan magazine Picture Show. (References to Farley Granger, Montgomery Clift and Bette Davis were enough to draw isolated gay men together). On one occasion this risky activity also drew the attention of the police: "I got in one night and my mother called out from their bedroom. She was in tears and said, 'What have you done?' Apparently two men had called around asking for me, said they were from the Post Office, and it was about a letter. My dad, however, had noticed that, as they produced their documents, 'CID' was printed inside their briefcase." The police were about to bring homosexuality charges against one of Bregonzi's pen pals, an RAF officer in East Anglia. Nothing more came of it.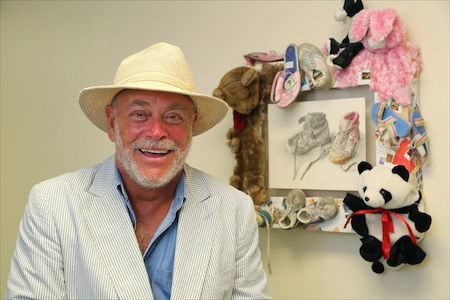 1948 – Fred Nall Hollis is an American artist who uses the name "Nall". He owns a studio and gallery in Fairhope, Alabama.
Nall was born in Troy, Alabama. His father, a banker, later moved the family to Arab, Alabama, where Nall finished high school. Nall then attended the University of Alabama, earning a Bachelor of Arts degree in art with minors in psychology and political science. Nall was admitted to study at the École des Beaux-Arts (School of Fine Arts) of Paris, France in 1971.
He traveled widely, particularly in the Middle East, North Africa, India, and Mexico, with his art being influenced by surroundings ranging from Arabic and Byzantine architecture to Alabama quilts. His art was soon recognized and exhibited in the United States as well as Europe, He studied under Salvador Dali who trained him in artistic techniques and inspired him to devote his life to the pursuit of beauty through artwork.
Nall took care of James Baldwin on his deathbed. Nall had been friends with Baldwin from the early-1970s because Baldwin would buy him drinks at the Café de Flore. Nall recalled talking to Baldwin about racism in Alabama with the racially conscious author. In one conversation, Nall told Baldwin that "Through your books you liberated me from my guilt about being so bigoted coming from Alabama and because of my homosexuality." Baldwin insisted that "No, you liberated me in revealing this to me."
Nall is close friends with
Albert II
, Prince of Monaco and
Catherine Deneuve
who both own multiple works created by him. He is also friends with
Ringo Starr.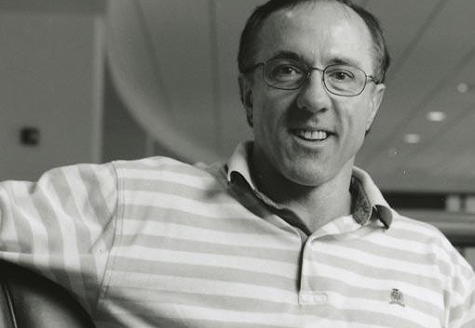 1953 – (Richard W.) Ric Weiland was a computer software pioneer and philanthropist (d.2006). He was one of the first five employees of Microsoft Corp.
Weiland was a high school classmate and friend of Paul Allen, with whom he created the Lakeside Programmers Group at Lakeside School, a preparatory school in Seattle. Bill Gates, Paul Allen, Kent Evans, and Weiland were involved with the Computer Center Corporation, using their PDP-10 - a mainframe computer system beloved of US universities in the late 60s and early 70s. They worked together to create a payroll program in COBOL for Portland company Information Sciences Inc., and wrote scheduling software for a school.
After he graduated from Stanford University, Allen and Bill Gates hired him in 1975, the same year they founded Microsoft in Albuquerque. As one of only five employees, Weiland was a lead programmer and developer for the company's BASIC and COBOL language systems, two of the first personal computing interfaces.
After a stint at Harvard Business School, he rejoined Microsoft in 1982 and became the project leader for Microsoft Works. He left Microsoft in 1988 and dedicated most of his time to philanthropy. He was described by Allen as a 'brilliant programmer' and a key contributor to the company's success.
Weiland was a donor to organisations such as the Pride Foundation, the Lifelong AIDS Alliance, United Way of King County, the Fred Hutchinson Cancer Research Center, Stanford University, the Gay, Lesbian and Straight Education Network, AMFAR, The Nature Conservancy, and the National Audubon Society. He was influential as an active member of the Northwest gay community. A member of the Pride Foundation's board of directors from 1997 to 2001, he helped win the fight to get General Electric to include sexual orientation in their non-discrimination policy.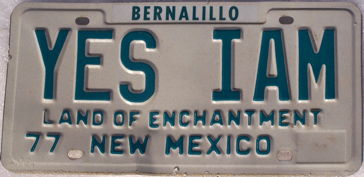 Weiland's personalized numberplate
Weiland also was a quiet but key second round investor in gay online media company PlanetOut Corp. His investment helped the company survive the dot com crash of 2000. PlanetOut was acquired by Online Partners in 2001 and is now called PlanetOut Inc.
It is estimated that during his life he contributed $30 million to over 50 organisations. He was known not to seek publicity for his philanthropy.
Ric Weiland died 24 June 2006 from a self-inflicted gunshot wound to the head. He was reported to have suffered from clinical depression. Weiland is survived by his partner Mike Schaefer and several nephews and nieces.
On February 24, 2008, Pride Foundation announced that Ric Weiland had bequeathed $65 million to support gay rights and HIV/AIDS organisations - the largest ever single bequest for LGBT community. Through his estate, Weiland established a fund at the Pride Foundation that will provide $46 million over the next eight years to 10 national LGBT and HIV/AIDS organisations that he personally selected and $19 million directly to Pride Foundation for their scholarships and grants supporting the Northwest's LGBT community.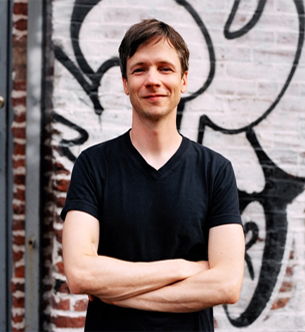 1963 – Today's the birthday of the Golden Globe-nominated American writer, actor, and director John Cameron Mitchell. He is best known for his motion pictures Hedwig and the Angry Inch and Shortbus.
Mitchell's first professional stage role was Huckleberry Finn in a 1985 Organic Theater adaption at Chicago's Goodman Theatre. Mitchell's first New York acting role was Huck Finn in the Broadway musical Big River (1985). He created the role of Dickon on Broadway in The Secret Garden, and appeared in the original cast of the Off Broadway musical Hello Again. He received Drama Desk nominations for both roles, and can be heard on the original cast recordings for each. (His rendition of the original demo version of "Giants in the Sky" can be heard as a bonus track on the 2007 remastered release of Stephen Sondheim's Into the Woods.) He appeared in the original cast of John Guare's Six Degrees of Separation (off- and on Broadway) and starred in Larry Kramer's Off Broadway sequel to The Normal Heart, The Destiny of Me, for which he received a Village Voice Obie Award and a Drama Desk nomination. Mitchell is a founding member of the Drama Department Theater Company, for which he adapted and directed Tennessee Williams' Kingdom of Earth starring Cynthia Nixon and Peter Sarsgaard.
In 1998, Mitchell wrote (along with composer Stephen Trask) and starred in Hedwig and the Angry Inch, an Obie Award-winning Off Broadway musical about an East German Transgender rock musician chasing after an ex-lover who plagiarized her songs. Three years later, he directed and starred in the feature film version of the play for which he won Best Director at the 2001 Sundance Film Festival. His performance was nominated for a Golden Globe as Best Actor in a Musical or Comedy. Both the play and the film were critical hits and have spawned cult followings around the world.
After the success of Hedwig, Mitchell expressed an interest in writing, directing and producing a film that incorporated explicit sex in a naturalistic and thoughtful way, without using "stars". After three years of talent searches, improv workshops and production, Shortbus premiered in May 2006 at the Cannes Film Festival. The film garnered many awards, at venues such as the Athens and Zurich International Film Festivals.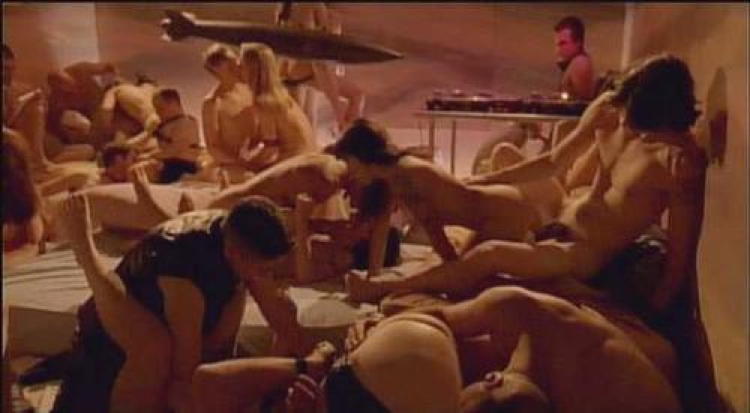 Orgy scene from Shortbus
Mitchell was the executive producer of the 2004 film Tarnation, an award-winning documentary about the life of Jonathan Caouette (whom he met when the latter auditioned for Shortbus). In 2005, Mitchell directed music videos for Bright Eyes' "First Day of My Life" and the Scissor Sisters' "Filthy/Gorgeous," the latter of which was banned from MTV for its explicitly sexual content. Mitchell has appeared as a pundit on Politically Incorrect and various VH1 and Independent Film Channel programs. He introduced films on a show called Escape From Hollywood on IFC for two years.
In 1985, Mitchell came out as Gay to his family and friends. Though always open about his sexuality in his personal life, he came out publicly in a New York Times profile in 1992. His subsequent writing has often explored sexuality and gender. Mitchell lives in New York City. Along with Shortbus stars PJ DeBoy and Paul Dawson and performance artists Amber Martin and Angela Di Carlo, he is a co-founder and DJ of the long-running New York City monthly party "Mattachine".

1965 – The Oregon Court of Appeals rules that consent to sodomy while in a drunken stupor is no consent.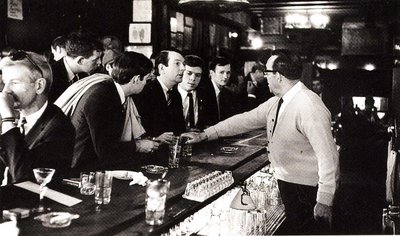 Mattachines denied service at 'Julius' 1966
1966 – The first homosexual "Sip-In" held at Julius's bar in Greenwich Village. The Mattachine Society in hopes of overturning the State Liquor Authority's regulations against serving homosexuals in bars staged a direct action they called "a sip-in" inspired by the Black civil rights movement successes in lunch bars and transportation. While there was no law on the books against homosexuals in bars, the SLA often penalized bars that served homosexuals on the grounds that their gatherings were "disorderly." Bartenders ordered gay patrons to sit facing away from other customers to prevent cruising, denied them drinks, or just kicked them out as precautionary moves under the SLA's watch. At the same time, bars frequented by gays were often targeted by police in entrapment schemes.
By 1965, influenced by Frank Kameny's addresses in the early 1960s, Dick Leitsch, the president of the New York Mattachine Society, advocated direct actions, and the group staged the first public homosexual demonstrations and picket lines in the 1960s. Frank Kameny, founder of Mattachine Washington in 1961, had advocated militant action reminiscent of the black civil rights campaign, whilst also arguing for the morality of homosexuality.
The State Liquor Authority of New York State did not allow homosexuals to be served in licensed bars in the state under penalty of revocation of the bar's license to operate. This denial of public accommodation had been confirmed by a court decision in the early 1940's.
A legal study, commissioned by Mattachine New York on the city's alcohol beverage law concluded that there was no law that prohibited homosexuals gathering in bars but that there was a law that prohibited disorderly behaviour in bars, which the SLA had been interpreting as homosexual behavior. Leitsch, then, announced to the press that three members of Mattachine New York would turn up at a restaurant on the lower east side, announce their homosexuality and upon refusal of service make a complaint to the SLA. This came to be known as the 'Sip In' and only succeeded at the third attempt in the Julius Bar in Greenwich Village.
Dick Leitsch recalls:
We knew that Julius' would not serve us … and when we walked in, the bartender put glasses in front of us, and we told him that we were gay and we intended to remain orderly, we just wanted service. And he said, hey, you're gay, I can't serve you, and he put his hands over the top of the glass, which made wonderful photographs. The whole thing ended up in court, and the court decided well, yes, the Constitution says that people have the right to peacefully assemble and the state can't take that right away from you. And so the Liquor Authority can't prevent gay people from congregating in bars.
The 'Sip In', though, did gain extensive media attention and the resultant legal action against the SLA eventually prevented them from revoking licenses on the basis of homosexual solicitation in 1967. In the years before 1969 the organization also was effective in getting New York City to change its policy of police entrapment of gay men, and to rescind its hiring practices designed to screen out gay people.

1967 – The Maryland Court of Appeals overturns a sodomy conviction because the arresting police testified that the defendant had a "sex problem."


1976 – In Saskatoon the Board of Governors of the University of Saskatchewan overturns recommendation of the University Council that homosexuality should not be considered in the selection of dons of residence. But, It accepts that sexual orientation not be a factor in treatment of faculty or students in faculty positions.


1979 - The Alberta Lesbian and Gay Rights Association is created during province-wide Alberta Gay Conference.


1981 – In Toronto six people, including activists George Hislop and Peter Maloney and head of Club Bath chain in US, Jack Campbell, charged with conspiracy to live off avails of crime. All three were listed as owners of the Club Toronto. These were the final charges following the February 5 bathhouse raids. Almost all charges are later dropped in court.


Added 2022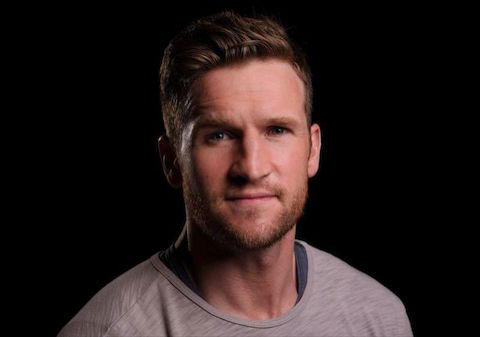 1982 – Claybourne Elder is an American actor, singer, and writer, born on this date, who is best known for his work on television and on Broadway.
Elder is from Springville, Utah. His mother is a schoolteacher and father a carpenter, and he is the youngest of eight siblings. At an early age he played violin in the school orchestra. Elder studied acting at the Moscow Klasse Centre in Russia before attending Brigham Young University and the University of Utah. He earned a degree in dramaturgy and directing from The University of Utah.
In 2007, as a 23-year-old aspiring actor visiting New York City, he was in the standing-room section of the Broadway musical The 25th Annual Putnam County Spelling Bee when a stranger approached him, noted his obvious enthusiasm for theater, gave him $200, and told him to spend it the next night on a ticket to a revival of Stephen Sondheim's Sweeney Todd: The Demon Barber of Fleet Street. Elder did see that show and considered it—and the stranger's kindness—to be the factors that helped him decide to move to New York and pursue acting.
"I was deciding whether or not I wanted to move to New York," he says.
"I grew up in Utah, and I was thinking New York is this big, scary city. Having this stranger do this thing is one of the reasons that led me to think like, 'It's going to be okay, and I should move to New York.' "
Elder went on to become an actor receive rave reviews and be nominated for a Drama Desk Award for Outstanding Leading Actor in A Play for originating the role of "Ollie Olson" in One Arm directed by Moisés Kaufman. He was nominated for a 2015 Lucille Lortel Award for Outstanding Leading Actor in a Musical for Allegro at Classic Stage. He originated the roles of "Buck Barrow" in Bonnie & Clyde, "Hollis Bessemer" in Stephen Sondheim's Road Show and "Michael Victor" in Venice.
On Broadway, Elder is currently playing the role of Andy in the 2021 revival of Stephen Sondheim's musical Company.
In December 2021, Claybourne shared his experience of the generous stranger in an Instagram post to explain why he'd decided to give several tickets to his own show to strangers. Alongside the message, he asked his friends and followers: "If you know this guy - let me know. I would love to thank him." He included a pic of himself and the man who had given him the $200.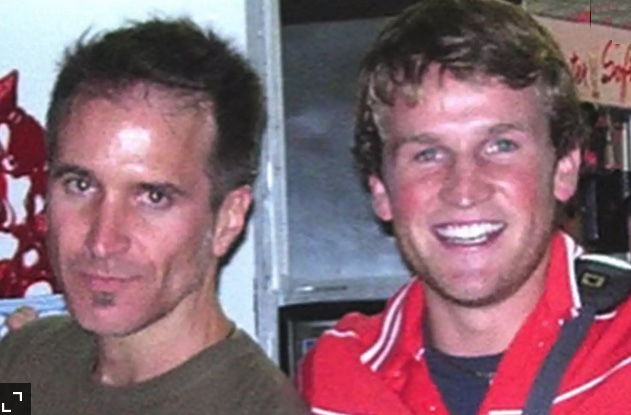 After sharing his story, Elder received a message from a friend who knew the stranger, Mark Howell. He said, "I saw your post, and I saw your picture of the man who gave you the money 15 years ago. He's one of my best friends."
It had been years since Howell had thought about that then-23-year-old he met outside the Circle in the Square Theatre. When Howell received a call from his old friend, he never suspected that Claybourne Elder would be waiting on the other line of the three-way FaceTime.
To learn that, not only had his random act of kindness inspired Elder to pursue his dreams, it also encouraged Elder to give back to other theatergoers in the same way, left Howell overwhelmed, to say the least.
Elder and director Eric Rosen were married in July 2012 in New York State. In 2017 they had a son through surrogacy.


1982 – Metro Toronto Police Morality Squad officers seize two magazines, charge assistant manager Kevin Orr of Glad Day Bookshop with "possession of obscene material for purpose of resale."

APRIL 22 →
[{(o)}]|[{(o)}]|[{(o)}]|[{(o)}]| [{(o)}]|[{(o)}]