September 11
[{(o)}]|[{(o)}]|[{(o)}]|[{(o)}]| [{(o)}]|[{(o)}]

Revised 2022

1844 – Died: Alexander Wood (b.1772) was a merchant and magistrate in Upper Canada who was the center of a sex scandal in 1810.
Wood was born in Fetteresso, Scotland, and he moved to Upper Canada in 1793, settling in the town of York (now Toronto) four years later. Going into business with William Allan, he established himself as one of the city's leading merchants, was gazetted lieutenant in the York militia in 1798, and was appointed a city magistrate in 1800. In 1801, Wood opened his own store providing quality goods from London and Glasgow.
In 1810, Wood found himself at the centre of a scandal when he investigated a rape case. The victim, referred to as "Miss Bailey", came to Wood claiming that she did not know the identity of her attacker, however she had scratched her assailant's penis during the assault. In order to identify the assailant, Wood personally inspected the genitals of a number of suspects for injury. Several contradictory rumours existed about Wood's conduct during these inspections. As a result, he faced sodomy charges and rumours stirred of his sexual identity. It was even alleged that Wood fabricated the rape charge as an opportunity to fondle and seduce young men. To this day, the truth of what actually happened is unknown.
When confronted with the charges by his friend, Judge William Dummer Powell, Wood wrote back, "I have laid myself open to ridicule & malevolence, which I know not how to meet; that the thing will be made the subject of mirth and a handle to my enemies for a sneer I have every reason to expect." Wood became the subject of ridicule and was tagged with the nickname "Molly Wood", "Molly" then being a derisive slang expression for a homosexual man. The undeveloped piece of land he owned that is now part of the Gay Village was called "Molly Wood's Bush." John Beverley Robinson called Wood the "Inspector General of private Accounts."
Judge Powell buried the potential sodomy charges on condition that Wood leave Upper Canada. Wood left for Scotland in October 1810.
Wood returned to York by 1812, resuming his prior appointment as a magistrate. He fought in the War of 1812 and was on the boards of several organizations. His life in York continued without incident until 1823, when Rev. John Strachan, a longtime friend of Wood's, recommended him for a position on the 1812 War Claims Commission. Judge Powell was the appointing authority and refused Wood on moral grounds due to the 1810 scandal. Wood sued Powell for defamation and won, but Powell refused to pay and subsequently published a pamphlet attacking Wood even further.
Wood remained in York, continuing his service in civic duties for the next seventeen years. In 1827 he purchased 50 acres of land at Yonge and Carlton Streets, which was referred to as "Molly Wood's Bush" throughout the 19th century.
Alexander Wood finally returned to Scotland in 1842 and he died there two years later at the age of 72. The British Colonist paid tribute to Wood as one of Toronto's most distinguished founding citizens.
The area once known as Molly Wood's Bush is now part of Toronto's Church and Wellesley gay village and contains an Alexander Street, a Wood Street and an Alexander Place.
In 1994, playwrights John Wimbs and Christopher Richards launched a play entitled Molly Wood, based on Wood's life. This production garnered Dora Awards for Best New Play and Best Production in 1995.
In 2005, the Church and Wellesley business association erected a statue of Wood in the neighbourhood, honouring him as a forefather of Toronto's modern gay community. The statue by sculptor Del Newbigging was unveiled on May 28, 2005. Now there are moves to remove it because of vague connections to the resdiential school system.
In an open letter posted on social media on June 8, states that Alexander Wood was the treasurer and a founding board member of the Society for Converting and Civilizing the Indians and Propagating the Gospel Among Destitute Settlers in Upper Canada. Wood was the society's treasurer for at least seven years in the 1830s.
It goes on to note the society financed "Indian Mission Schools," particularly the St. John's Mission in Sault Ste. Marie, which the letter calls a "a clear path" to the Shingwauk Indian Residential School, operated by the Anglican Church and Canadian government from 1873 to 1970. (Note that Wood died 30 years before the latter school opened! Another case of "jump on the hysteria bandwagon!")
On Aril 4th 2022, the statue was quietly removed at the order of the local merchant society, who had erected it.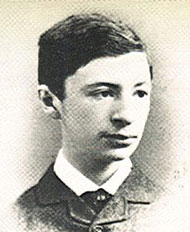 1864 – Marc-André Raffalovich (d.1934) was a French poet and writer on homosexuality best known today for his patronage of the arts and for his life-long relationship with poet John Gray. Raffalovich's was born in a rich Jewish family, which moved from Odessa to Paris in 1863. He went up to study in Oxford in 1882 before settling down in London and opening a salon in the 1890s. Oscar Wilde attended, calling the event a saloon rather than a salon. This is where Raffalovich met the love and companion of his life, John Gray.
In 1894, Raffalovich started to contribute on the subject of homosexuality (unisexualité, as he called it) to the Archives de l'Anthropologie Criminelle, a prestigious revue founded in Lyon by Alexandre Lacassagne, a pioneer criminologist and professor of Forensic Medicine. He soon became recognised as an expert in the field, engaging in correspondence with other researchers throughout Europe.
His magnus opus, Uranisme et unisexualité: étude sur différentes manifestations de l'instinct sexuel was published in 1896. In 1897, he started working on Annales de l'unisexualité, and les Chroniques de l'unisexualité with the aim of cataloguing everything published on the subject of homosexuality. These have proved useful to historians up to this day.
In 1896, under the influence of John Gray, Raffalovich converted to Catholicism and joined the terciary order of the Dominicans as brother Sebastian. At the same time Gray became a priest and was sent to Edinburgh. Raffalovich followed and settled down nearby, paying for the cost of Gray's new church.
There is a close link between Raffalovich's views on homosexuality and his Catholic beliefs. He had moved on from the contemporary vision of homosexuality as a 'third sex' to consider it simply as an expression of human sexuality. He made the distinction between the born and the chosen inverts. The former only is worth considering while the latter is mired in vice and perversion.
He drew however a difference with heterosexuality based on the idea of vice and virtue. While a heterosexual's destiny is to marry and start a family, a homosexual's duty is to overcome and transcend his desires with artistic pursuits and spiritual and even mystical friendships.
These views led him to clash with Magnus Hirschfeld and the members of the Scientific Humanitarian Committee, accusing them of being propagandists for moral dissolution and of wanting to destroy whole generations. He even supported Paragraph 175 as a way to prevent total moral chaos.
His attempt to reconcile his homosexuality and his Catholic beliefs pushed him further into his criticism of the early gay liberation movement and in 1910, he finally stopped commenting altogether on the subject which had had such a place in his life. He focused on his Edinburgh salon and his support of young artists.
He died in 1934, the same year as his life-long companion John Gray.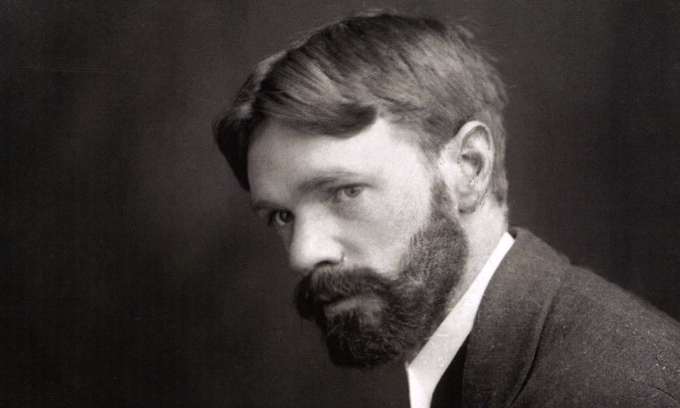 1885 – (David Herbert) D.H. Lawrence (d.1930) was an important and controversial English writer of the 20th century, with his output spanning novels, short stories, poems, plays, essays, travel books, paintings, translations, literary criticism and personal letters. These works, taken together, represent an extended reflection upon the dehumanising effects of modernity and industrialisation. In them, Lawrence confronts issues relating to emotional health and vitality, spontaneity, sexuality, and instinctive behaviour.
Lawrence's unsettling opinions earned him many enemies, and he endured hardships, official persecution, censorship and the misrepresentation of his creative work throughout the second half of his life, much of which he spent in voluntary exile, self defined as a 'savage pilgrimage'. At the time of his death, his public reputation was that of a pornographer who had wasted his considerable talents. E M Forster, in an obituary notice, challenged this widely held view, describing him as 'the greatest imaginative novelist of our generation.' Later, the influential Cambridge critic F R Leavis championed both his artistic integrity and his moral seriousness, placing much of Lawrence's fiction within the canonical 'great tradition' of the English novel. He is now valued as a visionary thinker and a significant representative of modernism in English literature.
Lawrence was a twentieth-century maverick in his open and formally adventurous discussion of all sexual issues and especially homosexuality. Perhaps no other major modernist author was so continually absorbed in the subject of homosexual desire, a theme that continually informs Lawrence's work.
Lawrence's greatest exploration of homosexual subject matter can be found in the novel, Women in Love (1920). Here, Lawrence and his wife Frieda are depicted as Rupert Birkin and Ursula Brangwen in a tale based partly on Lawrence's clamorous relationship with the writer Katherine Mansfield, her husband, the literary critic John Middleton Murry (Gudrun and Gerald of the novel), and Lady Ottoline Morrell (Hermione Roddice).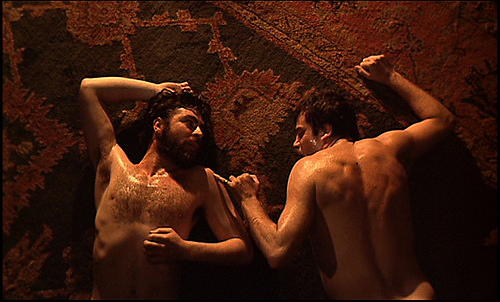 Alan Bates and Oliver Reed in 'Women in Love'
It was during the composition of Women in Love that Lawrence, frustrated by his failure to forge a deeper bond with Murry, evidently had a sexual relationship with a Cornish farmer named William Henry Hocking in the town of Tregerthen.
The short-lived affair was the culmination of a long-standing struggle with homosexual feelings:
'I would like to know why nearly every man that approaches greatness tends to homosexuality, whether he admits it or not', Lawrence wrote to a friend in 1913. Lawrence told another acquaintance, 'I believe the nearest I've come to perfect love was with a coal-miner when I was about sixteen.'
Yet Lawrence's inability to intensify his relationships with either Murry or Hocking generated his most forthright fictional examinations of homosexual desire, an intense five-year absorption in the subject that included not only Women in Love and Aaron's Rod (1922) but the treatise Goats and Compasses (1917) - which he destroyed - and the self-suppressed Prologue to Women In Love.

1926 – A California appellate court upholds the crime against nature conviction of a man for consensual sex in a car. The court calls the act "one of the most repulsive degradations known to humanity."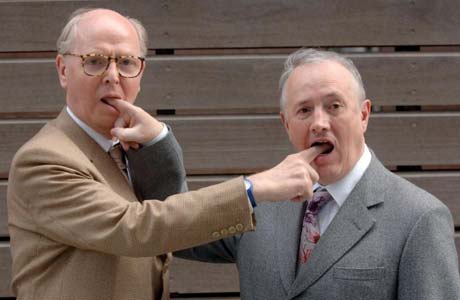 Gilbert (L) and George
1943 – Gilbert Proesch is an Italian-born artist and is the Gilbert in Gilbert and George.
Gilbert was born in San Martino, Italy, and studied art at the Wolkenstein School of Art and Hallein School of Art, Austria and the Akademie der Kunst, Munich, before moving to England.
Gilbert first met George Passmore on 25th September 1967 while studying sculpture at St Martins School of Art, London. The two claim they came together because George was the only person who could understand Gilbert's rather poor spoken English. In a 2002 interview with Daily Telegraph, they said of their meeting: "it was love at first sight". They have claimed that they married in 2008.
They were initially known for being performance artists early in their career but are now best known for their their large scale photo-montages, frequently tinted in extremely bright colours, backlit, and overlaid with black grids so as to resemble stained glass windows. Gilbert & George themselves often feature in these works, along with flowers and youths, their friends, and echoes of Christian symbolism. The early works in this style were in black and white, with red and yellow touches in later series. Later these works moved to use a range of bold colours. Their recent work has returned to a more sombre and darker palette.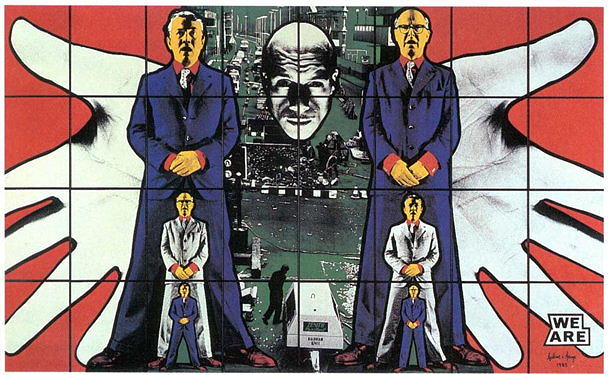 The matching business suits which they wore for these performances became a sort of uniform for them, and they rarely appear in public unless wearing them. It is also virtually unheard of for one of the pair to be seen without the other. They refuse to disassociate their performances from their everyday lives, insisting that everything they do is art. The pair regard themselves as 'living sculptures'.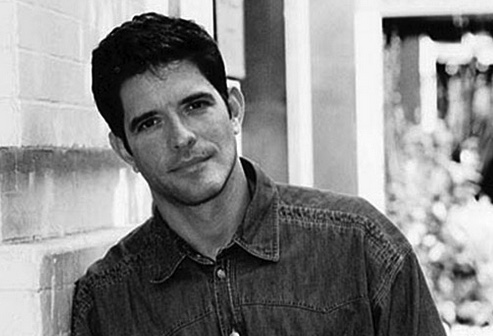 1952 – Brad Gooch is an American writer. Born and raised in Kingston, Pennsylvania, he graduated from Columbia University with a bachelors in 1973 and a doctorate in 1986.
Gooch is currently a Professor of English at William Paterson University in New Jersey. He has lived in New York City since 1971. His 2015 memoir Smash Cut recounts life in 1970s and 1980s New York City, including the time Gooch spent as a fashion model, life with his then-boyfriend filmmaker Howard Brookner, living in the famous Chelsea Hotel and the first decade of the AIDS crisis.
Gooch is married to writer and religious activist Paul Raushenbush; they have one child.

1961 – KQED in San Francisco broadcasts The Rejected, the first made-for-television documentary about homosexuality on American television. The documentary was made for under $100 and features experts speaking about homosexuality from their various fields' perspectives. Each expert dispels a negative stereotype in his or her segment, giving positive and normalizing view of homosexuality. The program is well received by viewers and critics. The Rejected was produced for KQEDby John W. Reavis. It was later syndicated to National Educational Television (NET) stations across the country. The 60-minute film received positive critical reviews.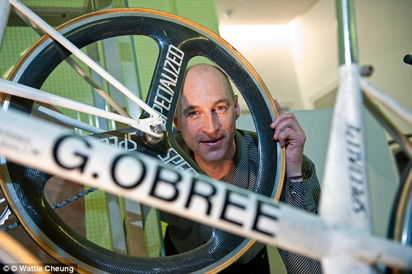 1965 – Graeme Obree nicknamed "The Flying Scotsman", is a Scottish racing cyclist who twice broke the world hour record, in July 1993 and April 1994, and was the individual pursuit world champion in 1993 and 1995.
He was known for his unusual riding positions and for the "Old Faithful" bicycle he built which included parts from a washing machine.
He joined a professional team in France but was fired before his first race. He suffers from bipolar disorder and has attempted suicide three times. His life and exploits have been dramatised in the film The Flying Scotsman. Obree has created some radical innovations in bicycle design but has had problems with the cycling authorities banning the riding positions his designs required.
In January 2011, Obree disclosed in an interview with the Scottish Sun that he is gay and that his difficulty with coming to terms with his sexual orientation contributed to his earlier suicide attempts. "I was brought up by a war generation; they grew up when gay people were put in jail. Being homosexual was so unthinkable that you just wouldn't be gay. I'd no inkling about anything, I just closed down." He came out to his family in 2005.


Relocated/Revised 2021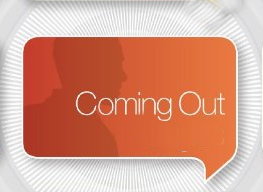 1972 – Coming Out was a Canadian television series, which aired on Maclean-Hunter's cable community channel in Toronto in 1972. It was the first Canadian television program targeted specifically to a lesbian, gay, bisexual and transgender community audience.
The program, a short-run documentary series, profiled LGBT people living in Toronto in the earliest years of the gay rights movement.It was hosted by Paul Pearce and Sandra Dick of the Community Homophile Association of Toronto, and premiered on September 11, 1972.

1976 – A California Appeals court upholds lewd conduct convictions of two men arrested for "kissing in public" in a parked car at a freeway rest stop. Both are ordered to register as sex offenders.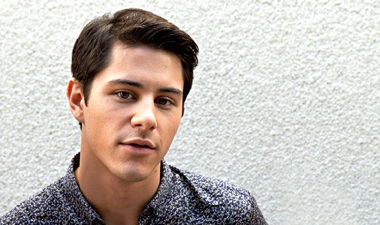 1989 – Michael James Mansel Willett, better known as Michael J. Willett, is an American actor and musician. Willett is known most for his roles as Lionel in United States of Tara and Tanner in G.B.F.. He currently stars in the MTV show Faking It.
Willett grew up in Fresno, California, and attended Clovis West High School. From a young age he always wanted to perform, and has stated, "When I was younger I was more uncomfortable with that side of myself, being outgoing and talkative. I realized along the way that was how you get people to know you. I've grown to be a more open person."
When asked about playing gay characters in multiple roles, Willett responded, "I want to play all different kinds of people; gay or straight. For example, when you go in to play a serial killer, you don't question if it meets your physical or moral standards. You disregard that and play the character. I didn't question it [accepting the G.B.F role]. I want to play all different kinds of characters and hope to continue to do so."
Willett is also a singer, listing himself on Twitter as a singer first and actor second. He has stated that after G.B.F he would like to start writing his own music. Willett's debut album is named Diapason, which he describes as the "full, rich, melodious outpouring of sound. That is exactly how I describe what I do".
Willett is openly gay, stating in an interview with The Advocate published on their website that, "I didn't really ever want to make it a thing … I never saw it being something that separated me from anyone else. If anything, I found that it has given me an advantage in the industry."

1993 – The film And the Band Played On premieres. It was based on a 1987 book by San Francisco Chronicle journalist Randy Shilts. The book chronicles the discovery and spread of the human immunodeficiency virus (HIV) and acquired immune deficiency syndrome (AIDS) with a special emphasis on government indifference and political infighting, specifically in the United States, to what was then perceived as a specifically gay disease. Shilts' premise is that AIDS was allowed to happen: while the disease is caused by a biological agent, incompetence and apathy toward those initially affected allowed its spread to become much worse. The film stars Lily Tomlin, Richard Gere, Alan Alda, Matthew Modine, and Anjelica Houston. It was dedicated to notable people with AIDS and survivors of the epidemic.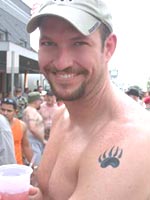 2001 – Mark Bingham, passenger on United Airlines Flight 93, died (b.1970). Bingham is believed to have been among the passengers who attempted to storm the cockpit to try to prevent the hijackers from using the plane to kill hundreds or thousands of additional victims on September 11, 2001.
He made a brief cell phone call to his mother, Alice Hoagland, shortly before the plane went down. Hoagland, a former flight attendant with United Airlines, later left a voice mail message on his cell phone, instructing Bingham to reclaim the aircraft after it became apparent that Flight 93 was to be used in a suicide mission. The passengers succeeded in crashing the plane into a field in Pennsylvania. It is thought to have been heading to Washington D.C. and possibly the Capitol.
Bingham was survived by his former boyfriend of six years, Paul Holm, who says this was not the first time Bingham risked his life to protect the lives of others. In fact, he had twice successfully protected Holm from attempted muggings, one of which was at gunpoint. Holm describes Bingham as a brave, competitive man, saying, "He hated to lose — at anything." He was even known to proudly display a scar he received after being gored at the running of the bulls in Pamplona. A large athlete at 6 ft 4 in and 225 pounds, he played for the San Francisco Fog, a rugby team.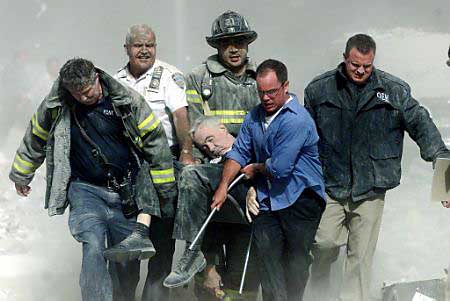 2001 – Father Mychal F. Judge, Chaplain, FDNY died (b.1933). He was a Roman Catholic priest of the Franciscan Order of Friars Minor, Chaplain of the Fire Department of New York and first officially recorded victim of the September 11, 2001 attacks. Following his death, a few of his friends and associates revealed that Father Judge was Gay — as a matter of orientation rather than practice, as he was a celibate priest. According to fire commissioner Thomas Von Essen:
"I actually knew about his sexuality when I was in the Uniformed Firefighters Association. I kept the secret, but then he told me when I became commissioner five years ago. He and I often laughed about it, because we knew how difficult it would have been for the other firefighters to accept it as easily as I had. I just thought he was a phenomenal, warm, sincere man, and the fact that he was Gay just had nothing to do with anything."
Judge was a long-term member of Dignity, a Catholic GLBT activist organization that advocates for change in the Catholic Church's teaching on homosexuality.
Since October 1, 1986, when the Vatican's Congregation for the Doctrine for the Faith issued an encyclical, On the Pastoral Care of Homosexual Persons, which declared homosexuality to be a "strong tendency ordered toward an intrinsic moral evil", many bishops, including Cardinal O'Connor of New York, banned Dignity from Catholic properties. At that time, Judge welcomed Dignity's AIDS ministry to the Church of Saint Francis of Assisi. At Judge's memorial service, Malachy McCourt said that he had heard "if Mike got any money from the right wing, he'd give it to the Gay organizations. I don't know if that's true, but that's his humor, for sure."
Ironically, Judge's firefighter helmet was presented to Pope John Paul II in memory of his death. Although there has been call within the Roman Catholic Church to have Mychal Judge canonized, there is no indication that this process is being seriously considered by the Church hierarchy. Several independent Catholic and Orthodox denominations, most notably The Orthodox-Catholic Church of America, have already declared him a saint. A film, The Saint of 9/11 portrays Mychal's life as a spiritual adventure and an honest embrace of life, where alcoholism and sexuality were acknowledged. Inspired by his life, the documentary embraces Mychal's full humanity.


Relocated/Revised 2021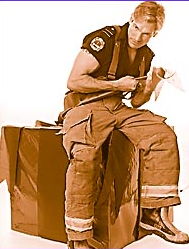 2001 – The New York attacks mentioned above spur openly-gay Toronto fireman Keith Maidment (b.1965) into action to raise money for the 9-11 Disaster Relief Fund.
Gay firefighter Keith Maidment (Mr. June on the 2002 Toronto Firefighter Calendar) has heard them all: "You can slide down my pole," "Let's see your hose," "Light my fire," "Make me wet," "My pussy's trapped in a tree...."
"Whenever I tell people I'm a fireman, they go 'Oooh, you're a fireman,'" says Maidment. "I remember once, a closeted member of the department tried to pick me up. He didn't know who I was, but he tried to impress me by mentioning he was a fireman. I was like, 'Eeew, you're a fireman?'"
The Toronto native has been on the force many years and is now an acting captain. As far as he knows, he's the only gay man out generally to the Toronto Fire Department. He started coming out to colleagues in '94, but came out in a big way in '99. His partner is immigration lawyer Michael Battista; the couple follow human rights cases closely.
Being a fireman was not a childhood dream. Maidment studied forestry, but realized that being gay and living in a small town wasn't for him. He's also worked as a party-promoter, community liaison for various gay media (including PrideVision) and, as an entrepreneur, his line of Bad Hair Day hats sold so well in North America that they paid for a round-the-world trip in '94/'95.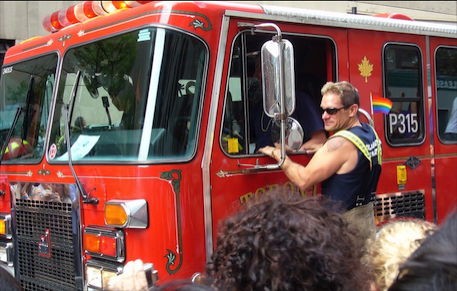 Keith Maidment rides the truck during Totonto Pride
He was a Big Brother for 10 years, has volunteered at Fashion Cares (where he met Battista), and has been slogging the Toronto Fire Fighter Calendar all over town (he's Mr June) to raise money for the burn unit of Sick Kids Hospital and the Princess Margaret Hospital Foundation.
And after Sep 11, 2001, he began working hard raising money for the 9-11 Disaster Relief Fund. The death of 344 of his colleagues struck him hard. "This isn't your typical job. You don't normally dwell on the danger.There are still funerals happening; there's never been such a loss of life to a fire department," said Maidment, who attended some of the funerals in New York.

SEPTEMBER 12 →
[{(o)}]|[{(o)}]|[{(o)}]|[{(o)}]| [{(o)}]|[{(o)}]