June 11
[{(o)}]|[{(o)}]|[{(o)}]|[{(o)}]| [{(o)}]|[{(o)}]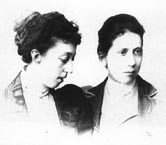 1862 - Violet Martin (d.1915) was an Irish author who co-wrote a series of novels with cousin Edith Somerville under the pen name of Martin Ross in the late 19th and early 20th centuries.
Violet Martin and Edith Somerville were second cousins, and originally met on January 17, 1886 at Castletownshend, after which they became lifelong 'companions' and literary partners. They came to share a home in Drishane, County Cork. In 1889, Violet adopted the pseudonym Martin Ross, which comprised her surname and the name of her ancestral home; thus the authors were called Somerville and Ross. Their works include The Real Charlotte (1889), Some Reminiscences of an Irish R.M. and In The Vine Country.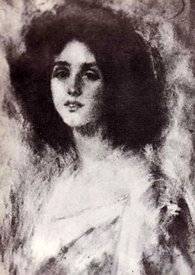 1877 - Born: Renée Vivien (d.1909), who had many affairs with women, openly celebrated lesboerotic love in her poetry and dreamed of women-controlled spaces in an era when most women were still domestically confined.
Vivien was born Pauline Mary Tarn in Paddington, England, into a prosperous family of merchants. Pauline and her sister attended school in Paris until their father died when Pauline was nine. Their mother decided to return to England, which dismayed Pauline since she already identified herself as French, a fact that would influence her writing and thinking. Her life in England was not pleasant. Her mother tried to have Pauline declared insane in order to acquire the money left directly to her daughter. The magistrates sided with Pauline, who was made a ward of the court until she reached her majority in 1898 and returned to Paris. Once there, Pauline changed her name, first to René or R. Vivien, to signify her "rebirth."
Though she had begun writing in English at the age of six, as an adult she wrote only in French, and at first pretended that the romantic sonnets contained in Etudes et Préludes (Etudes and Preludes, 1901), and Cendres et Poussières (Ashes and Dust, 1902), were written by a man. In 1903, she altered her first name slightly to the feminine Renée on the cover of Evocations (1903), a transformation that initially took her readers by surprise.
At the end of 1899, Vivien's childhood friend, Violet Shilleto, introduced her to Natalie Clifford Barney, the wealthy and beautiful American, who was already leading an active lesbian life in Paris. As Vivien recounted in her novel Une Femme m'apparut (A Woman Appeared to Me, 1904), she was almost instantly fixated by the magnetic personality of Barney:
"I would evoke over and over again the faraway hour when I saw her for the first time, and the shudder which ran down my spine when my eyes met her eyes of mortal steel. ... I had a dim premonition that this woman would determine the pattern of my destiny, and that her face was the fearful face of my Future."
Much of Vivien's work was inspired by their relationship. In the summer of 1900, they studied classical Greek for several weeks. Vivien, the apter pupil, was soon writing verse imitative of Sappho's, and her first book, Etudes and Préludes, was published in 1901.
Vivien was tormented by Barney's infidelities and by the death in 1901 of Violet Shilleto, who was one of the major inspirations for Vivien's poetry, which is filled with images of the purple flower. While Barney was away in Bar Harbor, Vivien, on hearing false rumors of Barney's impending marriage, broke with Barney and then tried, for the second or third time in her life, to commit suicide.
At the end of 1901, Vivien met the Baroness Hélène de Zuylen de Nyevelt, a Rothschild, with whom she would spend the next several years. Most of Vivien's work is dedicated to "H.L.C.B.," the initials of the Baroness's first names.
But Barney briefly reignited her affair with Vivien in 1904 when the two ran off together to Lesbos, where they hoped to establish a Sapphic circle of artists. The project was abandoned when Vivien decided to rekindle her relationship with the Baroness.
In 1906, the Baroness ended her relationship with Vivien, who went on to have affairs with a singer and at least two members of the demimonde. Eventually, she spent most of her time shut up in her apartmenton the Bois de Boulogne. There she nailed the windows closed and filled the rooms with buddhas and incense. At other times, she traveled widely, including to many parts of Europe and Asia as well as to Turkey, Mytilene, and Hawaii.
Despite her erratic lifestyleshe continued to write prolifically. She became increasingly alcoholic and anorexic and, after making a deathbed conversion to Catholicism, she died of those two diseases on November 18, 1909.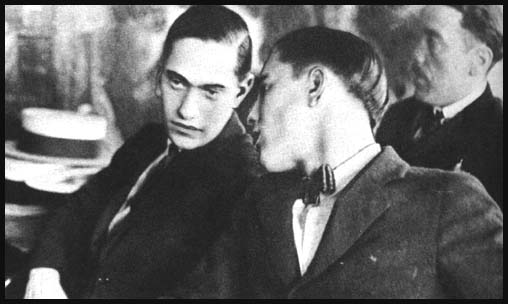 Loeb (L) & Leopold at their trial
1905 - Born: Richard A. Loeb (d.1936), who, with Nathan Freudenthal Leopold, Jr., more commonly known as Leopold and Loeb, two wealthy University of Chicago students, who murdered 14-year-old Bobby Franks in 1924, and received sentences of life in prison.
Leopold, who was 19 at the time of the murder, and Loeb, 18, believed themselves to be Nietzschean supermen who could commit a 'perfect crime' (in this case a kidnapping and murder) without fear of being apprehended.
On Wednesday, May 21, 1924, the pair lured Franks, a neighbour and distant relative of Loeb's, into a rented car. Loeb first struck Franks with a chisel. Leopold and Loeb then suffocated Franks. After concealing the body in a culvert under a railroad track outside of Chicago — the body was burned with acid to make identification more difficult — they did their best to make it seem that a kidnapping for ransom had taken place; the Franks family had enough money that a request for $10,000 in ransom was plausible.
Before the family could pay the ransom, though, the body was found. Investigators saw at once that this could not be a mere kidnapping, since there would have been no reason for a kidnapper to kill Franks.
A pair of eyeglasses found with the body was eventually traced back to Nathan Leopold. The ransom note had been typed on a typewriter that Leopold had used with his law school study group. During police questioning, Leopold's and Loeb's alibis broke down and each confessed, but each blamed the other for the actual killing.
The ransom was not their primary motive. In fact, they admitted that they were driven by the thrill. For that matter, they basked in the public attention they received while in jail; they regaled newspaper reporters with the crime's lurid details again and again.
Leopold and Loeb both admitted to the press that they had a sexual relationship, and this increased the lurid (for that time) aspects of the crime considerably.
The trial proved to be a media spectacle. Loeb's family hired 67-year-old Clarence Darrow — who had fought against capital punishment for years — to defend the boys against the capital charges of murder and kidnapping. While the media expected them to plead not guilty (by reason of insanity), Darrow surprised everyone by having them both plead guilty. In this way, Darrow avoided a jury trial which would most certainly have resulted in a conviction and perhaps even the death penalty. Instead, he was able to make his case for his clients' lives before a single person, Cook County Circuit Court Judge John R. Caverly.
Darrow gave a twelve-hour speech, which has been called the finest of his career. It may be, in fact, that Darrow accepted the case because it offered a huge public platform for such a speech; he knew that his strong argument against capital punishment would be reprinted in newspapers around the world. And if he could successfully reason that such heinous murderers should not be executed, perhaps he would make other capital punishment cases more difficult to prosecute. In the end, Darrow succeeded; the judge sentenced Leopold and Loeb each to life in prison (for the murder), plus 99 years each (for the kidnapping).
In prison (the Illinois State Penitentiary), Leopold and Loeb used their educations to good purpose, teaching classes in the prison school. In January of 1936, at age 30, Loeb was attacked by fellow prisoner James Day with a straight razor in the prison's shower room, and died from his wounds. Day claimed afterwards that Loeb had attempted to sexually assault him; an inquiry accepted Day's testimony, and the prison authorities ruled that Day's attack on Loeb was self-defence.
The story of the Leopold and Loeb case has become ingrained in popular culture and is often used or referred to in film and television. The crime was also inspiration for Alfred Hitchcock's film Rope [1948], and Tom Kalin's more openly gay-themed Swoon (1992) as well as Murder by Numbers (2002), the 1985 play Never The Sinner by John Logan, and the off-Broadway musical Thrill Me by Stephen Dolginoff.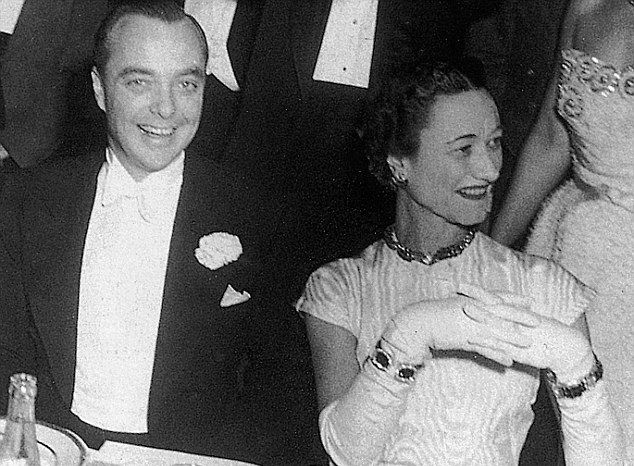 Jimmy Donahue with Duchess of Windsor
1915 – James Paul Jimmy Donahue Jr. (d.1966) was an heir to the Woolworth estate and a noted New York City socialite.
Jimmy Donahue was the second son of James Paul Donahue (1887-1931), the scion of an Irish American family which had made a fortune in the fat rendering business (Retail Butchers' Fat Rendering Company), by his wife Jessie Woolworth Donahue (1886-1971), one of the three daughters of Frank Winfield Woolworth, founder of the Woolworth retail chain. His older brother was Woolworth Donahue (1913-1972) who brought a cheetah to Cannes following a safari.
Donahue was a nephew of Edna Woolworth (1883–1917), a wealthy socialite[4] and a nephew by marriage of Franklyn Laws Hutton (1877–1940), a co-founder of the brokerage firm E. F. Hutton & Co. He was also the first cousin and confidante of the American socialite Barbara Hutton (1912–1979).
Donahue was a high school dropout. He initially attended the Hun School at Princeton, NJ, and after his parents were advised to remove him from there, he was shifted to Choate Rosemary Hall in Connecticut. However, he was expelled from that school at age 17. Following his expulsion from Choate he took tap dance lessons with the tap dance master Bill "Bojangles" Robinson.
Having been born into a wealthy family, Donahue never felt the need to earn a living, and indeed he lived lavishly, travelling the world with a valet in tow and staying at the most expensive hotels. He was known within his circle by the nickname "Jeem".
A playboy by nature, he was a gay man although he claimed he had had a five-year affair with Wallis Simpson, Duchess of Windsor, the wife of the Duke of Windsor and former King Edward VIII. This claim is endorsed by Lady Pamela Hicks, daughter of Earl Mountbatten of Burma and a cousin of the Duke of Windsor. Jessie Donahue had several mansions built, including one on Palm beach, Florida where the Duke and Duchess stayed. Jimmy also reportedly kicked the Duchess in the shin during the Windsors visit from the Bahamas where the duke was governor during the war.
"The Windsor Story,"
by
Charles J.V. Murphy
and
J. Bryan III
, portrays the former king as a man utterly dominated by his wife, who often treated him with contempt. They describe her five-year relationship with Jimmy Donahue Jr., a playboy and homosexual. When the duke complained, she reportedly said,
"What could possibly be more harmless? Everybody knows what Jimmy is. Why, his friends call me the Queen of the Fairies."
He is buried in the Woolworth Family Mausoleum at Woodlawn Cemetery in the Bronx, New York, having died in 1966 at the age of 51.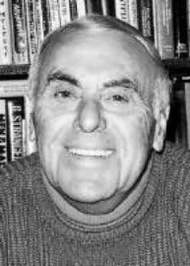 1923 – George Baxt (d.2003) was a prolific American screenwriter and author of crime fiction, best remembered for creating the gay black detective, Pharaoh Love.
George Leonard Baxt was born in Brooklyn, New York, to Russian/Jewish immigrants. After working for several years as an agent he moved to Britain in the late 1950s and began a new career as a writer for television and the cinema. His most notable screenplays include The City of the Dead (1960) starring Christopher Lee, and three collaborations with director Sidney Hayers noted for their taut suspense and black humour: Circus of Horrors (1960), the thriller Payroll (1961) from the novel by Derek Bickerton and Night of the Eagle (1962) which he re-wrote following a draft by Charles Beaumont and Richard Matheson, though his credit was omitted from the US version which was released as Burn, Witch, Burn.
In 1966 be published A Queer Kind of Death, his first novel, which was met with considerable acclaim, not least for his creation of gay black detective Pharaoh Love. The influential New York Times critic Anthony Boucher said in his review that, "This is a detective story, and unlike any other that you have read. No brief review can attempt to convey its quality. I merely note that it deals with a Manhattan subculture wholly devoid of ethics or morality, that staid readers may well find it 'shocking', that it is beautifully plotted and written with elegance and wit ... and that you must under no circumstances miss it." A critical analysis of the book can be found in The Lost Library: Gay Fiction Rediscovered. Love would be the central figure in two immediate sequels Swing Low Sweet Harriet (1967) and Topsy and Evil (1968) and also two later novels, A Queer Kind of Love (1994) and A Queer Kind of Umbrella (1995).
Baxt also wrote a long series of period mysteries, combining his love of detective stories and Hollywood movies by featuring real celebrities solving fictional murder cases in the style of Stuart M. Kaminsky's 'Toby Peters' books, starting with The Dorothy Parker Murder Case (1984) and concluding twelve volumes later with The Clark Gable and Carole Lombard Murder Case in 1998, often featuring detective Jacob Singer. Baxt himself appears as a character in The Tallulah Bankhead Murder Case (1987), which is set in 1952 during the HUAC hearings.
George Baxt died June 28, 2003, from complications after heart surgery, in New York, New York.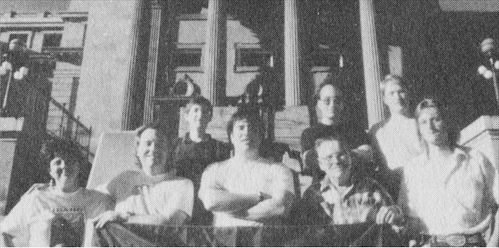 Morris Foote (front second from right) at early Pride rally
1925 – Morris Foote fled Boise, Idaho's gay witchhunt in 1955 but returned to help build the gay community.
When Boise, Idaho's "homosexual panic" was ignited in the pages of the Idaho Statesman newspaper in November 1955, Morris Foote was a thirty-year-old elevator operator at Idaho's state capitol building. He had no idea that what he'd been doing with other consenting adult men could get him arrested. But after reading about the first arrests of homosexual men and allegations of a homosexual ring involving a group of adult men and 100 teenagers, Morris Foote wasn't going to wait around to see what happened. He left Boise for his hometown of Middleton, Idaho, and didn't set foot in Boise again for more than two decades.
The police questioned nearly fifteen hundred Boise citizens and gathered the names of hundreds of suspected homosexuals by the time the investigation ran its course the following year. All told, sixteen men were arrested on charges ranging from "lewd and lascivious conduct with minor children under the age of sixteen" to "infamous crimes against nature." Of the sixteen, ten went to jail, including several whose only crime had been to engage in sex with another consenting adult male.
During the years Morris Foote spent in self-imposed exile he worked as a farmer and lived just down the road from the house where he grew up. In the late 1970s, after hearing about a gay bar in Boise, he returned to the city from which he'd fled and made his way into the LGBT civil rights movement through the Metropolitan Community Church (MCC), a Christian church whose membership is primarily LGBT.
In the early 1980s, Morris attended his first public protest against the virulently anti-gay Rev. Jerry Falwell and in 1990, as a board member of Your Family, Friends and Neighbors, helped to plan Boise's first Gay and Lesbian Freedom Parade and Festival, which was held on Saturday, June 23, 1990.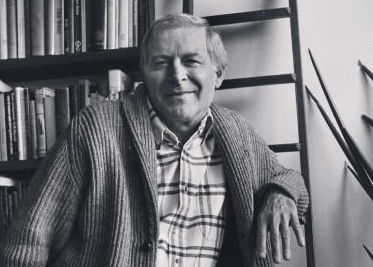 1928 – Sanford Friedman (d.2010) was an American novelist. Friedman's Totempole (1965) features an army love affair between its protagonist and a North Korean doctor war prisoner. Some have identified the Stephen Wolfe persona in this novel as being the first instance of a main character who is both Jewish and gay in American fiction.
Friedman was born in New York City, the son of Leonard and Madeline (Uris) Friedman. A 1945 graduate of the Horace Mann School, in the same class as his lifelong friend Allard K. Lowenstein, Friedman earned a BFA from the Carnegie Institute of Technology.
From 1951 to 1953 he served in the US Army as a military policeman in Korea, where he was awarded a Bronze Star. He has taught writing at the Juilliard School and at SAGE. He was a friend to many noted artists like Lee Krasner and Fritz Bultman, and for several years Friedman was the companion of the noted American poet, translator, and critic Richard Howard. Howard dedicated his poem "1915: A Pre-Raphaelite Ending, London" to him.
Friedman was also active off-Broadway as a writer and producer, collaborating with actor Howard Da Silva; author Ben Maddow; and playwright Arnold Perl. Perl authored a 1957 play, "Tevya and his Daughters," co-produced by Friedman and starring Mike Kellin as Sholem Aleichem's dairyman — a production which inspired 1964's "Fiddler on the Roof."
In 1968, Friedman signed the "Writers and Editors War Tax Protest" pledge, vowing to refuse tax payments in protest against the Vietnam War. Friedman died of a heart attack in his Manhattan apartment on April 20, 2010.
In 1965 Friedman was given the O. Henry Award from the Society of Arts & Sciences for Ocean, which formed part of his novel Totempole.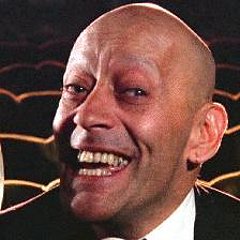 1934 - Born: Jack Birkett (d.2010) who was a British dancer, mime artist, actor and singer, best known for his work on stage as a member of Lindsay Kemp's theatre company, and in the films of Derek Jarman. He was often billed as Orlando or The Incredible Orlando. Most of his best-known work was done when he was totally blind.
He was born in Leeds. His mother came from a Romani family; his father left home when he was six. He worked as an artist's model for David Hockney and others, before finding work at the Grand Theatre in Leeds in 1950 as a stage hand and lighting technician. Soon afterwards, he moved to London, working as a dancer and singer in touring shows and musicals, including the UK tour of Oklahoma! in 1952. In 1956 he met Lindsay Kemp, when they were both doing ballet classes with Marie Rambert at the Mercury Theatre.
He made his West End theatre debut in Bye Bye Birdie in 1961, and also worked with Kemp's company from the early 1960s, taking part in the first Lindsay Kemp Dance Mime Company performances in 1965 that culminated in Illuminations. When working with Kemp in Italy in 1966, he began to lose his sight, attempting a variety of cures ranging from surgery to bee-stings but despite all the treatments he became entirely blind, but responded by growing more extreme in his performances and his persona. He played the part of Blackbird in Kemp's production of Flowers, based on Jean Genet's Our Lady of the Flowers, which briefly transferred from London to Broadway in 1974, and he continued to tour worldwide with Kemp until the late 1980s.
Birkett also made a number of TV and film appearances, including portrayals of Borgia Ginz in Derek Jarman's Jubilee (1978), Caliban in Jarman's version of The Tempest (1979), Thersites in Jonathan Miller's Troilus and Cressida (1981) - part of the BBC Television Shakespeare series, in which Birkett delivered his lines in the manner of a drag queen - the Pope in Jarman's Caravaggio (1986), and Pontius in The Garden (1990).
He eventually retired from performing, living in Barcelona and finally in London, where he died in 2010 at the age of 75. Kemp wrote of Jack:
Jack was Judy to my Mr Punch, Harlequin to my Pierrot, Titania to my Puck, Herodias to my Salomé, Queen of Hearts to my Lewis Carroll. We shared flats, dressing rooms, boyfriends, bills, good times and bad times, success and failure; a couple of extravagant young dreamers, a couple of aching elders, always entertainers.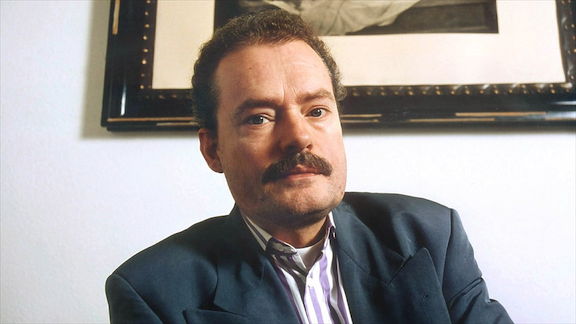 1940 – Volkmar Sigusch is a German sexologist, physician and sociologist.
In a 1991 publication "Die Transsexuellen und unser nosomorpher Blick" ("Transsexuals and our nosomorphic view"), Sigusch coined the term cissexual (zissexuell in German). As an antonym to transsexual, cissexual refers to a person whose gender identity matches their sex assigned at birth.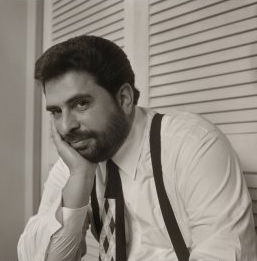 1946 – Lawrence D. Mass, M.D. is an American physician and writer. A co-founder of Gay Men's Health Crisis, he wrote the first press reports on the epidemic that later became known as AIDS. He is the author of numerous publications on HIV , hepatitis C, STDs, gay health, psychiatry and sex research, and on music, opera, and culture. He is also the author/editor of four books/collections. Since 1979, he has lived and worked as a physician in New York City, where he resides with his life partner, writer and activist Arnie Kantrowitz.
Completing his residency in anesthesiology at Boston's Massachusetts General Hospital (in association with Harvard Medical School), Mass encountered homophobia during his interviews in Chicago for a residency in psychiatry when he disclosed that he was gay. This treatment became the catalyst for his activism that he pursued via journalism, making him the first openly gay physician to write on a regular basis for the gay press.
His writing for the gay press examined contemporary thinking about sexuality and homosexuality. Mass chronicled the shift in academic and scientific thinking about homosexuality and sexuality. He conducted and published many interviews with such leading figures in the discourse as Judd Marmor, Richard Pillard, Thomas Szasz, John Money, Charles Silverstein, Masters and Johnson, Richard Green, Mary Calderone, John Boswell, John D'Emilio and Estelle Freedman, and Martin Duberman. A selection of these interviews is republished in his two "Dialogues of The Sexual Revolution" collections.
As a physician writing for the gay press, Mass also was one of the first to address the 1970s spread of a number of sexually transmitted diseases, including syphilis, gonorrhea, hepatitis B and amebiasis. In May 1981, Mass authored the first press report appearing in the New York Native on the then-new HIV-AIDS epidemic.
In 1982, Mass joined Larry Kramer, Edmund White, Paul Rapoport, Paul Popham and Nathan Fain in co-founding Gay Men's Health Crisis (GMHC), the world's first and still largest AIDS information and service organization.
His book on the life and legacies of author and AIDS activist Larry Kramer, the anthology,"We Must Love One Another or Die: The Life and Legacies of Larry Kramer", begins with "Larry versus Larry," the story of Mass's sometimes stormy 40-year relationship with Kramer, and includes contributions from a number of key figures from the AIDS movement.
By the mid-1990s, thanks largely to the efforts of Larry Kramer and ACT UP, HIV infection had become largely manageable with medical care, and gay activist concerns began to shift. Mass has continued to write about more recent health problems afflicting gay men, including the escalation of HIV among minority teens and the elderly, the crystal meth epidemic, hepatitis C and anal cancer.
Beginning in the late 1990s, Mass extended his public health interests to the bear subculture of the gay community. He has addressed in a regular column a range of health topics of interest to this subculture, initially consisting of middle-aged overweight men, first for American Bear Magazine and later for A Bear's Life magazine.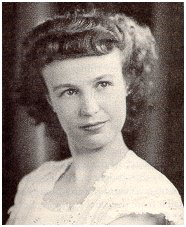 "Lisa Ben"
1947 - Vice Versa (1947-1948), subtitled "America's Gayest Magazine", is the earliest known U.S. periodical published especially for lesbians, as well as the earliest extant example of the lesbian and gay press in that country.
The magazine was the project of Lisa Ben (an anagram of "lesbian"), a secretary at RKO Studios in Los Angeles. By her own account, Ben had "a lot of time to herself" at work and, starting in June 1947, "twice each month typed out five carbons and one original of Vice Versa." She recalled being told by her boss that he didn't care what she was typing, but he wanted her to "look busy" so people at the studio would think he was important.
She described the intention of the magazine being to create "a medium through which we may express our thoughts, our emotions, our opinions- as long as material was 'within the bounds of good taste'".
The nine issues of Vice Versa created by Lisa Ben "combined a unique editorial mix and a highly personal style" and opened up a forum for lesbians to communicate with each other via readers' letters, personal essays, short fiction and poetry. The first issue was 15 pages long; subsequent issues ranged from 9 to 20 pages.
In Unspeakable, his history of the gay and lesbian press in the United States, journalist and historian Rodger Streitmatter noted that Vice Versa "contained no bylines, no photographs, no advertisements, no masthead and neither the name or address of its editor... yet it set the agenda that has defined lesbian and gay journalism for 50 years."As examples of the 'defining qualities' of the magazine, Jim Kepner, founder and curator of the International Gay and Lesbian Archives cites Vice Versa's mix of editorials, short stories, poetry, book and film reviews and a letters column as setting "the pattern that hundreds [of gay and lesbian magazines] have followed".
The publication was free and Ben initially mailed three copies to friends and distributed the rest by hand, encouraging her readers to pass their copies along to friends rather than throwing them away. Ben believes that several dozen people read each copy. Although scrupulous about avoiding material that could be considered "dirty" or risqué, she stopped mailing copies after a friend advised her that she could be arrested for sending obscene material through the mail. Publications addressing homosexuality were automatically deemed obscene under the Comstock Act until 1958.
Ben eventually left her job at RKO and publication of the magazine ceased in 1948.
The editor expressed the hope that "perhaps Vice Versa might be the forerunner of better magazines dedicated to the third sex, which, in some future time, might take their rightful place on the newsstands beside other publications, to be available openly and without restriction."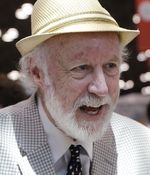 1947 – Allan Gurganus is an American novelist, short story writer, and essayist whose work, which includes Oldest Living Confederate Widow Tells All and Local Souls, is often influenced by and set in his native North Carolina.
Gurganus was born in Rocky Mount, North Carolina. He first trained as a painter, studying at the University of Pennsylvania and the Pennsylvania Academy of Fine Arts. He served three years with the United States Navy during the Vietnam War and began writing during his time on the USS Yorktown. He says of that time: "Imagine 4,000 men, ages 18 to 23 … floating around in the South China sea for 35 days … the mischief and the energy and the volatility and the testosterone and the erotic swill." After that, he graduated from Sarah Lawrence College where he studied with Grace Paley. He studied with John Cheever and Stanley Elkin at the University of Iowa in the Iowa Writers' Workshop. Cheever sold Gurganus's short story "Minor Heroism" to The New Yorker without telling Gurganus beforehand.
His best known work is his 1989 debut novel, Oldest Living Confederate Widow Tells All, which was on the New York Times Best Seller list for eight months. It won the Sue Kaufman Prize from The American Academy of Arts and Letters, was a main selection of the Book-of-the-Month Club, and sold over four million copies. It was made into a CBS television play, with Cicely Tyson winning one of its four Emmy Awards as best supporting actress in the role of the freed slave Castalia. The novel was also adapted for a one-woman Broadway play, starring Ellen Burstyn, in 2003.
He followed it with a collection of stories called White People, and, finally, a second novel in 1997, the all-gay Manhattan comic tragedy Plays Well with Others. A very fine quartet of novellas came in 2001, The Practical Heart, followed by Local Souls, a trio of novellas, again returning to the fictional Falls of his native North Carolina.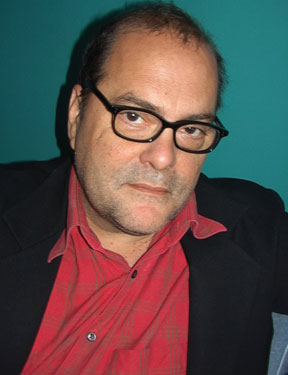 1953 – Eduardo Machado is a Cuban playwright living in the United States. Notable plays by Machado include Broken Eggs, Havana is Waiting and The Cook. Many of his plays are autobiographical or deal with Cuba in some way. Machado teaches playwriting at New York University. He has served as the Artistic Director of the INTAR Theatre in New York City since 2004. He is openly gay.
Eduardo Machado was born in Havana, Cuba, in 1953. With his brother Jesus he emigrated to the United States without his parents at the age of eight in 1961 as part of Operation Pedro Pan, which brought Cuban children to the United States in the early part of Fidel Castro's rule in Cuba. He lived with his aunt, uncle, and cousins in Hialeah, Florida until his parents were able to emigrate to California. While in California his parents had three more children. He is still a Cuban citizen, and has held a U.S. green card since he emigrated.
Machado was married to Harriett Bradlin when he was 19 years old and she was 40; they were separated in the mid-1980s but never divorced. She died in 2007. He is now openly gay. Machado first returned to Cuba in 1999 and has returned to Cuba several times since then. He has taught playwriting at Columbia University, where he was the head of the graduate playwriting program, and he now teaches at New York University, where he is head of playwriting.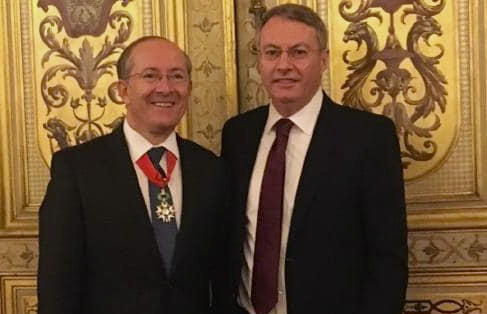 Brady (with Stephens) receives Légion d'Honneur
1959 – Stephen Brady is a former Australian career diplomat. In 1999 he and his partner Peter Stephens became the world's first officially acknowledged same sex ambassadorial couple, when they were presented to Queen Margrethe II of Denmark at the start of Brady's posting as Australian Ambassador to Denmark. From September 2008 to June 2014 he was the Official Secretary to the Governor-General of Australia. During this time he was also Secretary of the Council of the Order of Australia and Secretary of the Bravery Decorations Council. In March 2014 his appointment as Ambassador to the French Republic, with concurrent accreditation to the Kingdom of Morocco, Algeria, Mauritania and the Principality of Monaco was announced.
Brady was born in London on 11 June 1959 to Geoffrey Vincent Brady and his wife Susanne. The family moved to Australia in 1960, where Brady was educated at Canberra Grammar School and the Australian National University. He graduated with a Bachelor of Arts degree with Honours in international relations in 1981.
In February 1999 he made headlines as Australia's and the world's first openly gay ambassador when he formally presented his partner Peter Stephens to Queen Margrethe II of Denmark. Stephens' passport was initially endorsed "Bearer is a member of the domestic household of the Ambassador", until Brady, who had been in a committed relationship with Stephens since 1982, insisted that it be changed.
On 31 March 2014 his appointment as Australian Ambassador to France was announced. In May 2015 he reportedly offered his resignation (which was not accepted) to Australia's DFAT after an incident in which he refused to follow an instruction given by the travelling party of the Australian Prime Minister, after his partner Peter Stephens was told to stay in the car and not greet Prime Minister Abbott at an unofficial airport arrival in France. Prime Minister Abbott later described Brady as 'a fine servant of Australia.'
Towards the end of his posting in Paris, the French State appointed Brady as a Commandeur of the Légion d'Honneur for his outstanding leadership of the bilateral relationship, only the second Australian civilian to receive the level of award after the Rt Hon Sir Ninian Stephen, a former Governor-General.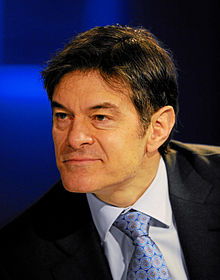 1960 – Mehmet Cengiz Öz, better known as Dr. Oz, is a Turkish-American cardiothoracic surgeon, author and television personality. He is supportive of alternative medicine and has been criticized by physicians, government officials and publications, including Popular Science and The New Yorker, for giving non-scientific advice.
An episode of The Dr. Oz Show that aired on November 28, 2012, was devoted to the "reparative therapy". Advocates of this practice view homosexuality as an illness or mental health problem that can be "cured", even though homosexuality does not appear in any of the current medical diagnostic manuals for illness or mental health conditions, such as DSM-5. On the contrary, in response to "reparative therapy" advocacy, several mainstream medical and psychological organizations formed the "Just the Facts Coalition", and published a booklet explicitly opposing "reparative therapy" because, in the medical opinion of these organizations, homosexuality is not an illness. Thus, this episode of Dr. Oz presented information in direct conflict with the opinions of the American Psychological Association, American Psychiatric Association, American Academy of Pediatrics, and others.
The broadcast featured a representative of NARTH (The National Association for Research and Therapy of Homosexuality), Julie Hamilton, PhD. Lesbian, Gay, Bisexual, Transgender (LGBT) advocacy groups strongly condemned Oz for allowing anyone who defended reparative therapy to appear on his program. Oz wrote on his blog that he "felt they needed to include all parties [in a discussion]" but agreed with established medical consensus that the data does not support any positive results. The statements by Oz seemed to do little to appease members of the LGBT community.
The James Randi Educational Foundation has awarded Oz with their Pigasus Award, an award intended
"to expose parapsychological, paranormal or psychic frauds that Randi has noted over the previous year."
The award consists of a silver flying pig and refers to claiming something so doubtful that it will only happen
"when pigs fly"
. Oz has been given this award on three separate occasions, more than any other recipient:
In 2009 for the promotion of energy therapies such as Reiki.
In 2010 for support of faith healing and psychic communication with the dead, among other controversial practices. Oz became the first person to receive a Pigasus Award two years in a row.
In 2012, Oz won "The Pigasus Award for Refusal to Face Reality" for his continued promotion of "quack medical practices, paranormal belief, and pseudoscience".

1966 - Mario Silva, is an international legal scholar and former Canadian politician. Silva served as a Canadian Member of Parliament from 2004 to 2011. He began his political career as a Toronto City Councillor (1994-2003) and acting mayor. He moved to federal politics, being elected for the Liberal Party of Canada in the 2004 election in the Toronto riding of Davenport. He served as the Official Opposition Critic for Foreign Affairs (Americas) after having served as Critic for the Treasury Board and Labour. In 2007, the President of the French Republic bestowed him the title of Knight of the Order of the Legion of Honour (Ordre national de la Légion d'honneur). He has also been awarded the Order of Merit of Portugal and the Order of Rio Branco from Brazil.

Born in the Azores, Portugal, he was first elected to city council in 1994 after defeating veteran councillor Tony O'Donohue by 15 votes. Silva received a high grade from the Toronto Environmental Alliance for his support of environmental initiatives, and has strong support from the Labour Movement. Silva is of Portuguese background and is popular in the local Portuguese community.

Silva was the first Portuguese-Canadian Member of Parliament.

Shortly after the election, Silva came out as gay in a Toronto Star profile.

1976 - In Kingston, Ontario, a convention of the New Democratic Party calls for the inclusion of sexual orientation in human rights codes. It is the first time a major Canadian political party accepts gay movement demands.

2008 - Norway first granted its LGBT citizens the right to civil unions way back in 1993. Today in 2008 it legalized same-sex marriage. Members of of Parliament in Norway approved a bill that finally allowed same-sex couples to marry. It was approved by 84 votes to 41. The new law made marriage in Norway gender neutral. The Scandinavian country already allowed Gay and Lesbian couples to enter into civil partnerships, but LGBT rights groups had long complained the law did not go far enough. Now it does.

2010 - An advisory panel of the United States Food and Drug Administration (FDA) narrowly voted to maintain the ban on blood donations from homosexual men. The vote was 7-6 to maintain the ban. Under the FDA's rules, men cannot give blood if they have had sex with another man at least once since 1977. The FDA was considering changing the blood donation rule to ban only men who had had sex with another man within the past five years. The rule came into force originally in 1985 to protect the blood supply from HIV. Critics claim that the ban is discriminatory and outdated, as other high risk groups such as prostitutes, intravenous drug users, and promiscuous heterosexuals are deferred from donation only one year from their last high risk encounter.

2010 - Iceland approved Gay Marriage. Most strikingly it was the first country to do so with a Unanimous Vote! Iceland, the only country in the world to have an openly gay head of state, passed the law allowing same-sex partners to get married in a vote which met with no political resistance. The Althingi parliament voted 49 to zero to change the wording of marriage legislation to include matrimony between "man and man, woman and woman,"

in addition to unions between men and women. Iceland, a socially tolerant island nation of about 320,000 people, became the first country to elect an openly gay head of state in 2009 when Social Democrat Johanna Sigurðardóttir became prime minister after being nominated by her party. "The attitude in Iceland is fairly pragmatic," said Gunnar Helgi Kristinsson, a political scientist at the University of Iceland. "It (gay marriage) has not been a big issue in national politics — it's not been controversial."

JUNE 12 →




[{(o)}]|[{(o)}]|[{(o)}]|[{(o)}]| [{(o)}]|[{(o)}]