March 20
[{(o)}]|[{(o)}]|[{(o)}]|[{(o)}]| [{(o)}]|[{(o)}]
1835 – Missouri outlaws consensual sodomy by statute, with a penalty of not less than 10 years and no maximum stated.

1890 – Lauritz Melchior, born (d.1973); Born in Copenhagen, Denmark, Lauritz Melchior was a boy soprano and amateur singer before starting operatic vocal training in 1908. He became a professional opera singer in 1913, initially performing as a baritone. Between 1917 & 1918 he studied to become a heldentenor - a powerful tenor suited to heroic operatic roles.
In 1920, he came to England where he sang in an experimental radio broadcast for the Marconi company, and where he met a man who was to become patron and lover for several years - author Hugh Walpole. After his relationship with Walpole cooled he apparently enjoyed the company of a merchant seaman he shared with his friend, the American poet, Hart Crane. He also married.
Melchior began to master the major Wagnerian roles which were to become his trademark; through the 1920s he performed in most of the major concert halls and opera houses in the Western world, with most of the great sopranos and conductors of the age, but he is best known for his hundreds of Wagner performances as a member of the Metropolitan Opera company between 1926 and 1950.
He appeared in 5 Hollywood musicals for MGM and Paramount between 1944 and 1952, mostly in jovial singing grandfather roles. In 1947, his hand and footprints were immortalised in cement in the forecourt of Grauman's Chinese Theatre.
He unofficially retired in 1955, although he continued to make occasional singing appearances. In the late 1960s, he set up a fund through the Juilliard school for the training of heldentenors. He was married twice but is widely acknowledged to have batted for both teams. A household name in his day, he is not so widely remembered today, although many recordings of his performances are still available.
He died in Santa Monica, California in 1973. He had been an American citizen since 1947, but is buried in Copenhagen.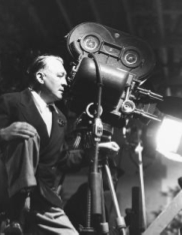 1891 – On this date the British singer, screenwriter, composer, actor and director Edmund Goulding was born (d.1959). Goulding is best remembered for directing cultured dramas and such as Grand Hotel (1932) with Greta Garbo and Joan Crawford, Dark Victory (1939) with Bette Davis, and The Razor's Edge (1946) with Gene Tierney and Tyrone Power. He also directed the classic film noir Nightmare Alley (1947) with Tyrone Power and Joan Blondell, and the action drama The Dawn Patrol. He was also a successful songwriter, composer, and producer.
There is a paradox to Goulding. His sensitivity to women's emotions brought him enduring success, as witnessed by his swooning melodramas, but his private life reflects a lack of sensitivity. Goulding was bisexual, with a decided taste for promiscuity and voyeurism. His sex parties and casting couch were notorious.
A 2004 biography of Goulding, Edmund Goulding's Dark Victory by Matthew Kennedy says that it was widely known in Hollywood that Goulding was bisexual, and hosted wild parties for all persuasions.
But he cannot be dismissed simply as a sex addict or sexual exploiter. For every excoriation of his morals, there are accounts of his loyalty to friends, generosity to family, gentlemanly manner on the set, and preternatural ability to bring out the best in his actors.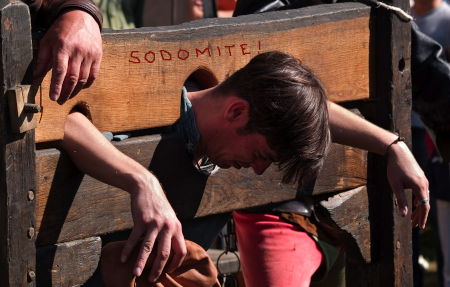 1905 – Delaware eliminates the pillory as a punishment for crime. Since 1852, those convicted of sodomy have been required to stand in the pillory for one hour prior to imprisonment.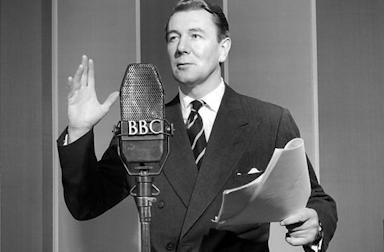 1908 – Sir Michael Redgrave, English actor and director (d.1985). Father to the Redgrave acting dynasty, Redgrave was married to the actress Rachel Kempson for 50 years from 1935 until his death. Their children Vanessa (b. 1937), Corin (1939-2010) and Lynn Redgrave (1943-2010) and their grandchildren - Natasha (1963-2009), Joely Richardson (b. 1965) and Jemma are also involved in theatre or film as actors. His grandson Carlo Gabriel Nero is a screenwriter and film director
During the filming of Fritz Lang's Secret Beyond the Door... (1948), Redgrave met Bob Michell and they became lovers, Michell set up house close to the Redgraves, and he became a surrogate "uncle" to Redgrave's children (then aged 11, 9 and 5), who adored him. Michell later had children of his own, including a son he named Michael.
The 1996 BBC documentary film Michael Redgrave: My Father, narrated by his son Corin Redgrave, and based on his book of the same name, discusses Michael's bisexuality in some depth. Rachel Kempson recounts that, when she proposed to him, Redgrave said that there were "difficulties to do with his nature, and that he felt he ought not to marry". She said that she understood, it didn't matter and that she loved him. To this, Redgrave replied "Very well. If you're sure, we will".
During one of Corin's visits to Michael, the latter said "There is something I ought to tell you". Then, after a very long pause, "I am, to say the least of it, bisexual".
Corin helped his father in the writing of his last autobiography, and encouraged him to acknowledge his bisexuality in the book. Michael agreed to do so, but in the end he chose to remain silent about it.
A card was found among Redgrave's effects after his death. The card was signed "Tommy, Liverpool, January 1940", and on it were the words (quoted from W.H. Auden): "The world is love. Surely one fearless kiss would cure the million fevers".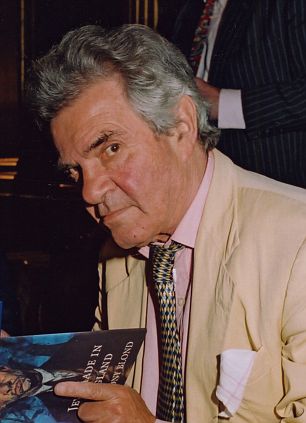 1928 – Anthony Blond (d.2008) was a British publisher and author.
Born in Sale, Cheshire, Blond was educated at Eton, where he was bullied. He briefly served National Service in the Army, but growing pacifism soon led to him registering as a conscientious objector. Having gained a History exhibition (scholarship) to New College, Oxford, he lost it by indulging too much in the distractions of an undergraduate life: "the joys of drink, people, parties, fancy waistcoats, foreign travel and falling in love - mostly with young men."
After Oxford, he briefly worked for a literary agent Raymond Savage, but set up his own firm in 1952, Anthony Blond (London) Ltd. He briefly joined Allan Wingate, but that publisher folded in 1958, and with his own £5,000 set up a new firm.
Reported to have given the first chance to some 70 writers, he was particularly close to the novelist Simon Raven. An early director and publisher of Private Eye, his friendship with James Goldsmith (and other members of the Clermont Club circle) survived Goldsmith's numerous writs to the magazine in the mid-1970s.
In 1955 Blond married Charlotte Strachey. After a long relationship with Andrew McCall, Blond, who was bisexual, married Laura Hesketh in 1981. Blond also had a son, Aaron by the author Cressida Lindsay. Blond was a Labour candidate in Chester at the 1964 general election and was also on the executive of the National Council for Civil Liberties.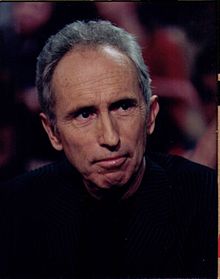 1939 – Jacobus Coos Huijsen, born in The Hague, is a former Dutch politician, who was a member of the House of Representatives in 1972–1973 and from 1976 to 1977. In his first term in office, he was a member of the Christian Historical Union, which he left because the party would not support the left-leaning Den Uyl cabinet; in his second term, he sat as an independent member under his own banner of Groep-Huijsen.
Shortly before leaving the House of Representatives in 1977, Huijsen came out as gay, making him the country's first openly LGBT politician and the first known openly gay member of a national legislature in the world.
After leaving parliament, Huijsen worked as a school teacher and director.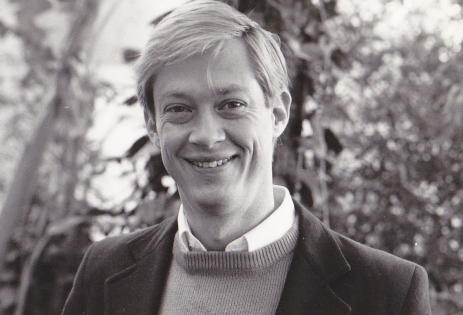 1947 – John Boswell, American historian (d.1994); A prominent historian and professor at Yale University, many of Boswell's studies focused on the issue of homosexuality and religion, specifically homosexuality and Christianity. Boswell was the author of the ground-breaking and controversial book Christianity, Social Tolerance and Homosexuality (1980), which, according to Chauncey et al (1989),
"offered a revolutionary interpretation of the Western tradition, arguing that the Roman Catholic Church had not condemned gay people throughout its history, but rather, at least until the twelfth century, had alternately evinced no special concern about homosexuality or actually celebrated love between men."
He is known primarily, however, as author of The Marriage of Likeness: Same- Sex Unions in Pre-Modern Europe (New York: Villard, 1994), in which he argues that the adelphopoiia liturgy was evidence that attitude of the Christian church towards homosexuality has actually changed over time, and that early Christians did on occasion accept same-sex relationships.
Rites of so-called "same-sex union" (Boswell's proposed translation) occur in ancient prayer-books of both the western and eastern churches. The rites of adelphopoiesis is Greek for "the making of brothers." Boswell, despite the fact that the rites explicitly state that the union involved in adelphopoiesis is a "spiritual" and not a "carnal" one, argued that these should be regarded as sexual unions similar to marriage.
This is a highly controversial point of Boswell's text, as other scholars have dissenting views of this interpretation, and believe that they were instead rites of becoming adopted brothers, or "blood brothers".
Boswell pointed out such evidence as an icon of two saints, Saints Sergius and Bacchus (at St. Catherine's on Mount Sinai), and drawings, such as one he interprets as depicting the wedding feast of Emperor Basil to his "partner", John. Boswell sees Jesus as fulfilling the role of the "pronubus" or in modern parallel, best man. Boswell made many detailed translations of these rites in Same-Sex Unions, and claimed that one mass same-sex wedding occurred only a couple of centuries ago in the Basilica of St. John Lateran, the cathedral seat of the Pope as Bishop of Rome.
Boswell died of complications from HIV-AIDS on December 24, 1994, at age 47.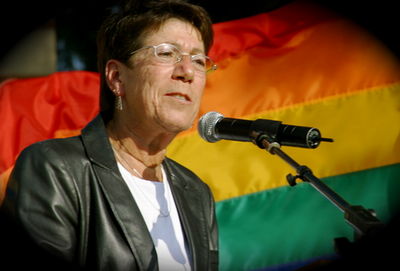 1948 – Ronni Sanlo, born in Miami, Florida, is the Director Emeritus of the UCLA Lesbian Gay Bisexual Transgender Center and an authority on matters relating to LGBT (Lesbian, Gay, Bisexual and Transgender) students, faculty and staff in higher education.
She grew up in a Jewish family, and recognized at an early age that she was a lesbian, yet in her upbringing she was too afraid to tell anybody. Sanlo went on with her life and decided to get married to a man she dated in college and later they had two children. At the age of 31, Ronni came out to friends and family, but one year after that because of laws created in Florida she lost custody of her children. The unfair treatment towards the LBGT community and her rights as a mother are what gave Sanlo the drive to get involved in activism and LGBT politics.
Sanlo's sexual orientation was cause for the losses of many jobs, but soon she recovered and was hired by the Florida Health Department to be an HIV epidemiologist. From there in 1994 she was hired by the University of Michigan to direct the Lesbian and Gay Programs office.
Today she directs the operation of her publishing companies, Purple Books Publishing and Purple Distinctions.
The film "Letter To Anita": The Ronni Sanlo Story was released in 2013 and stars Meredith Baxter as Ronni Sanlo. It premiered at the Los Angeles LGBT film festival, Outfest, in 2014. The film's context shows Ronni Sanlo and her struggle with Anita Bryant's Anti-Gay Campaign, "Save Our Children." Bryant helped overturn a Dade County Ordinance which outlawed the discrimination against gays. This resulted in Ronni Sanlo losing custody of her children. The film also displays Ronni's fight to support people with HIV/AIDS and her fight for Gay Civil Rights in the midst of her losing her children.
Letter To Anita won the Audience Award: Best Documentary Feature and Jury Award: Runner Up for Best Documentary Feature at the 25th Annual Tampa International Gay & Lesbian Film Festival.
Sanlo is widely recognized as instituting the first "Lavender Graduation" ceremony at the University of Michigan in 1995, a commencement tradition that is now included in most universities across the United States. By 2001, there were over 45 Lavender Graduations at colleges and universities nationwide. The ceremony acknowledges and honors lesbian, gay, transgender, bisexual and allied students and their contributions to the university.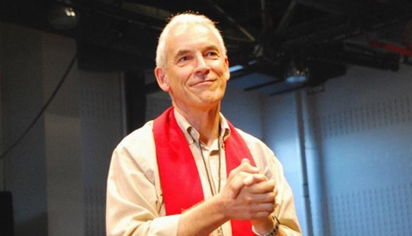 1949 – Gary Paterson was the Moderator of the United Church of Canada from 2012-2015. He is the first openly gay person to take the post since the church was formed in 1925, and the first in the world to lead a major Christian denomination. He was elected to the position on August 16, 2012, at the 41st General Council of the church after six ballots, and was installed as Moderator two days later.
Paterson was born in Whitehorse, Yukon in 1949, and as an "army brat", lived in Toronto, Ontario and Germany before his family settled in Vancouver, British Columbia.
He earned two degrees in English literature and became a sessional lecturer at University of British Columbia. He then studied theology in Boston and the Vancouver School of Theology before being ordained by the United Church of Canada in 1977.
Paterson served as minister at several rural and urban churches, became a staff member of the British Columbia Conference of the United Church, then served as minister at three churches in Vancouver: Ryerson United Church, First United Church, and his current church, St. Andrew's-Wesley United Church, where he is Lead Minister.
In an interview following his election, Paterson acknowledged that the United Church faced many challenges, but while in office, he hoped to bring inspiration and hope during times of change.
Paterson currently lives in Vancouver with his spouse, Tim Stevenson, a Vancouver city councillor who, in 1992, was the first openly gay person to be ordained by the United Church. Paterson has three children from a previous marriage.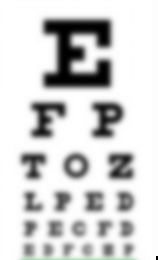 1957 – The Illinois Supreme Court upholds the sodomy conviction of an optometrist with a male patient after very conflicting witness testimony. Did the witnesses need glasses?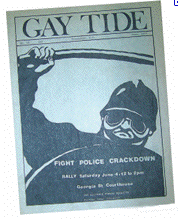 The GATE newspaper

1971 – The Gay Alliance Toward Equality, or GATE, was one of the first Canadian gay liberation groups.
Formed in spring 1971 in Vancouver, British Columbia, GATE was the first Canadian gay group to explicitly discuss and plan civil rights strategies for achieving gay and lesbian equality under Canadian law. Autonomous groups with the same name were subsequently set up in other cities in Canada, including Edmonton and Toronto.
One of the first high-profile cases launched for gay rights in Canada was launched by the Vancouver chapter of GATE in response to the Vancouver Sun's refusal to allow for a paid advertisement for the GATE newspaper, Gay Tide. This would become the first gay rights case to reach the Supreme Court of Canada. Other prominent activities taken on by the group included picketing various human rights commissions over the lack of human rights protection for sexual orientation under Canadian law, and taking on an advocacy role in the wrongful dismissal suit of John Damien when the Ontario Racing Commission fired him as a racing steward because of his sexuality.
The Toronto group led a successful campaign in 1973 to lobby city council to adopt a policy forbiding discrimination on the basis of sexual orientation in municipal hiring, making the city the first jurisdiction in Canada to do so.
Robert Douglas Cook, the first openly gay candidate for political office in Canada, ran as a GATE candidate in the 1979 provincial election in the electoral district of West Vancouver-Howe Sound.
The group dissolved in 1980.


Added 2023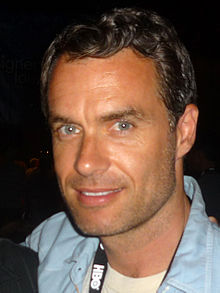 1971 – Murray Bartlett is an Australian actor. His roles include Dominic "Dom" Basaluzzo in the HBO comedy-drama series Looking, Michael "Mouse" Tolliver in the Netflix revival of Tales of the City, and Armond in the HBO satire comedy series The White Lotus. He is set to star in the upcoming television series adaptation of The Last of Us.
Bartlett was born in Sydney, Australia. At age four, his family moved to Perth, where he was raised.
Bartlett pursued an acting career in Australia for several years, including a role in the series headLand. In 1993, he played con man Luke Foster in Neighbours.
In 2000, Bartlett relocated to the United States. His first big break there came a few years later, when he was cast as a guest star in the HBO series Sex and the City. He also played D.K., John Crichton's best friend, in four episodes of the SciFi Channel series Farscape. In 2006, Bartlett toured with Hugh Jackman in the Australian touring company production of Jackman's Broadway hit The Boy From Oz.
From March 2007 until the show's cancellation in September 2009, Bartlett was a cast member on the CBS daytime soap opera
Guiding Light
, where he played Cyrus Foley. He starred as Dominic "Dom" Basaluzzo in the HBO comedy-drama series
Looking
from 2014 to 2015, and then reprised his role in the series finale television film,
Looking: The Movie
in 2016. In 2017, he portrayed a recurring role in the musical drama series
Nashville
. Bartlett assumed the central role of Michael 'Mouse' Tolliver in the Netflix revival of
Tales of the City
.
In 2021, Bartlett starred in The White Lotus as Armond, the luxury resort manager and a recovering drug addict who has been "clean" for 5 years. Bartlett got the role through a self tape audition. For his portrayal, Bartlett received Screen Actors Guild, Critics' Choice, Independent Spirit and Australian Academy of Cinema and Television Arts nominations.
Bartlett came out as gay early in his career, saying, "I didn't feel like I really had an alternative; I just never felt I could ever be anything but myself."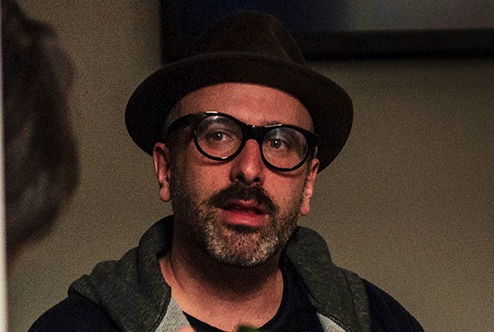 1973 – Noam Gonick is a Canadian filmmaker and artist. His films include Hey, Happy!, Stryker, and Guy Maddin: Waiting for Twilight. His work frequently deals with themes of homosexuality, social exclusion, dystopia and utopia.
Gonick was born in Winnipeg, Manitoba in 1970. His father, Cy Gonick, is a reputed Marxist economist and former member of the Manitoba Legislature. As a youth, Noam showed a strong interest in theatre. While in elementary school, he started a small theatre company composed of other children from his neighborhood. At 16, he lived briefly in Berlin, Germany, where he worked as an actor in an experimental theatre troupe. After returning to Canada, he met and began working with filmmaker Guy Maddin, who would have a seminal influence upon his early work.
Gonick attended and graduated from Ryerson University in Toronto, earning a BFA with a major in Film. He edited Ride, Queer, Ride (1997) a collection of writings on and by filmmaker Bruce LaBruce, who would prove to be another important influence on Gonick's filmmaking. In 2007, he was made the youngest inductee to the Royal Canadian Academy of Arts. He is currently President of the Board of Directors at the Plug-In Institute of the Contemporary Arts.
Gonick's first film was the 1997 short 1919, a historically revisionist depiction of the Winnipeg General Strike, as seen through the window of a gay oriental barbershop and bathhouse. MoMA selected the film as one of the best gay and lesbian films from the last fifteen years.
His next film was the documentary Guy Maddin: Waiting for Twilight, narrated by Tom Waits and featuring Shelley Duvall. The film captures Maddin as he begins production on Twilight of the Ice Nymphs (1997). The documentary received acclaim on the festival circuit and went on to a successful life on television.
Gonick would follow up with the experimental short Tinkertown in 1999, while also writing and developing his first feature, Hey Happy! (2001). The cult-styled film, set in the Winnipeg rave scene on the eve of an apocalyptic flood, was distributed in North America and Europe, and was listed in Artforum's selection of best movies of the year.
In the early 2000s, Gonick directed a number of episodes of Canadian documentary television series KinK, before returning to film with Stryker (2004), a feature he co-wrote with David McIntosh. Stryker strikes a comic-tragic tone in its colourful depiction of the bleak realities of Aboriginal youth and working-class transsexuals. The film was photographed by Ed Lachman, and featured a cast of mostly amateur actors. It premiered at the Venice International Film Festival.
In 2007, Gonick wrote and directed Retail, a comedy TV pilot. Gonick's early interest in theatre was given renewed outlet in his creation of two short documentaries about important Canadian theatre figures: Hirsch (2010), on Hungarian-Canadian director and co-founder of the Manitoba Theatre Centre John Hirsch, and What If? (2011), on Leslee Silverman, celebrated artistic director of Manitoba Theatre for Young People. Some of Gonick's recent installation art has included elements of live performance.
Gonick directed the documentary To Russia with Love, featuring LGBT athletes competing in and responding to the Sochi Olympics. The film was nominated for a GLAAD Award and was streamed worldwide on Netflix. In 2016 Noam began directing the series Taken for APTN about murdered and missing Indigenous women.
Gonick has been in a relationship with Instagram Icon/Artist Michael Walker since March 2016.


1975 – Gays of Ottawa (GO) picket police station and office of Ottawa Journal to protest arrests and homophobic media coverage of arrests in a so-called Sex Scandal.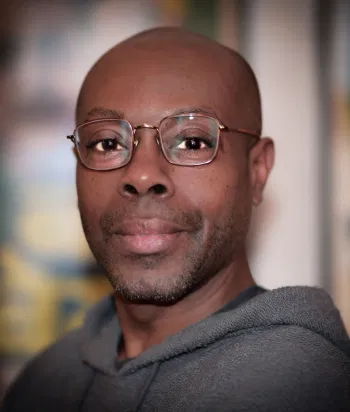 1976 – Alexander Chapman is a Canadian actor. He is best known for his role as Lydie-Anne in Lilies, for which he garnered a Genie Award nomination for Best Supporting Actor at the 17th Genie Awards.
Chapman, who has also performed as a drag queen under the name Titty Galore, has also had supporting roles in Space Cases, Welcome to Africville, Fig Trees, After Alice, Jesus of Montreal, Queer as Folk, Sugar, The Kids in the Hall, Tru Love and Murder in Passing, often but not always playing a drag queen or a transgender woman.
He has also performed extensively in stage roles, including in Canadian Stage's production of Angels in America.
Quebec-bred, Dawson College-trained, Toronto-based Chapman is best known for his Genie-nominated role in John Greyson's Lilies (1996). As the lustful and lucid French aristocrat Lydie-Anne, the African-Canadian Chapman was cast against type but burned up the screen in his liaison with St-Sebastian wannabe Simon. Dana Inkster cast next him in a more subdued role as her community-building gay bartender in her short Welcome to Africville (1999). Also known by his nom de drag Titty Galore, Chapman was brought back by Greyson for a supporting role as South African activist Simon Nkoli in his Fig Trees (2003).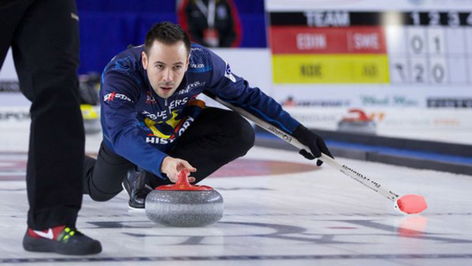 1983 – John Epping, born in Peterborough, Ontario, is a Canadian curler from Toronto.
Epping was a top junior curler, having won the Ontario Junior championship in 2004. At the 2004 Canadian Junior Curling Championships, his team finished with an 8-4 record, just out of the playoffs. He won the 2006 Canadian Mixed Curling Championship with Julie Reddick, Scott Foster and Leigh Armstrong. He won the 2007 provincial mixed as well, but could not defend his national title.
After Juniors, Epping played third for Nick Rizzo until switching positions with Rizzo in 2006, and thus skipping the team. However, in 2007 he was picked up to play third for Olympic silver medalist Mike Harris. He'd only play one season for Harris before joining Wayne Middaugh's rink at second in 2008. With the Middaugh rink Epping won the 2008 National, his first Grand Slam victory. The team also played in the 2009 Canadian Olympic Curling Trials, where they finished with a 2-5 record. In 2010, Epping parted from Middaugh to form his own team.
Epping won the 2012 Players' Championship, his second Grand Slam title of his career, and his first as skip. This win helped him accrue enough CTRS points to qualify for a direct spot at the 2013 Canadian Olympic Curling Trials. At the Trials, his rink won just one game, and finished last.
In the 2016 Ontario Men's Tankard, Epping's team would go 8-2 through the round robin, but lose to Glenn Howard in the final.
Epping is openly gay and married Thomas Shipton in June 2017.
It has been over five years since curler John Epping told family, friends and peers in his sport's community that he was gay. "I got a ton of messages," he said. "And the way people tried to relate it to me was just to say, 'Hey it's OK, we've got your back.' It came in so many different ways. It was pretty special."
Epping serves as an ambassador for You Can Play, an organization that works to ensure safety and inclusion for all who participate in sports, including LGBTQ athletes, coaches and fans.

1978 – The San Francisco Board of Supervisors passes what is described as 'the most stringent gay rights law in the country.'  Only one of the eleven supervisors — Dan White — votes against the ordinance. Later that year, he murders Harvey Milk.

1986 – After fourteen years, the New York City Council finally passes a gay rights ordinance with a vote of 21 to 14.  Mayor Ed Koch tells reporters, "The sky is not going to fall.  There isn't going to be any dramatic change in the life of this city."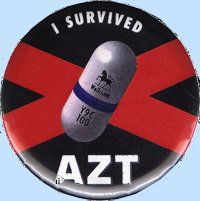 1987 – On this date the Food and Drug Administration approves anti-HIV/AIDS drug AZT eventually leading to the HAART treatment and thousands of lives saved.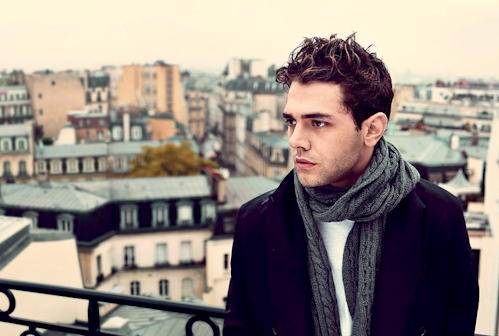 1989 – Xavier Dolan, born in Montreal, Quebec, sometimes credited as Xavier Dolan-Tadros, is a Québécois actor and filmmaker, the son of a teacher, Geneviève Dolan, and Quebec actor Manuel Tadros. Formerly a child actor in films such as J'en suis!, Le Marchand de sable and La Forteresse suspendue and television series such as Omertà, la loi du silence, Dolan attracted international attention when his first film as a director and screenwriter, J'ai tué ma mère (I Killed My Mother), won three awards from the Director's Fortnight program at the 2009 Cannes Film Festival.
J'ai tué ma mère has been sold to more than 20 countries.
After J'ai tué ma mère he directed his second feature film Les Amours Imaginaires (Heartbeats), which was financed privately. It follows the infatuation of two friends with the same mysterious young man. Inevitably, their friendship suffers. It premiered in the Un Certain Regard category at the 63e Festival de Cannes in May 2010, to a standing ovation, and won the top prize of the Official Competition at the Sydney Film Festival in June.
His third film, Laurence Anyways, about a transsexual, was selected to compete in the Un Certain Regard section at the 2012 Cannes Film Festival. Suzanne Clément's performance in the film won the section's award for Best Actress. The film received praise from critics but once again failed to find an audience.
His fourth film is an adaption of Michel Marc Bouchard's play Tom at the Farm (Tom à la ferme). It received its world premiere in the main competition section at the 70th Venice International Film Festival on 2 September 2013 and won the FIPRESCI award. Though Tom at the Farm played the festival circuits in 2013, it wasn't released in the United States until 2015.
Dolan's 2014 film, Mommy, shared the Jury Prize in the main competition section at the 2014 Cannes Film Festival with Jean-Luc Godard's film Goodbye to Language (Adieu au langage).
As of September 2009, the Québec-specific French-language dubbed version of the animated series South Park features Dolan as the voice of Stan. His voice work also included narrating the NFB's 2010 animated documentary Lipsett Diaries.
Dolan is gay, and has described J'ai tué ma mère, which he wrote, directed, and starred in, as being semi-autobiographical.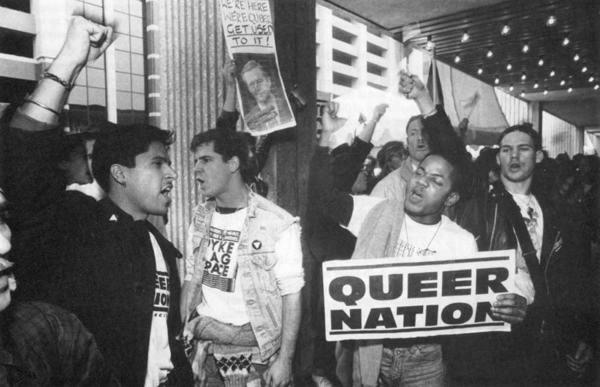 1990 – On this date sixty queers gathered at the Lesbian, Gay, Bisexual and Transgender Community Services Center in New York's Greenwich Village to create a direct-action organization. The goal of the unnamed organization was the elimination of homophobia, and the increase of Gay, Lesbian and Bisexual visibility through a variety of tactics. Queer Nation's popular slogan "We're here. We're queer. Get used to it." was adopted and used by many in the LGBT community.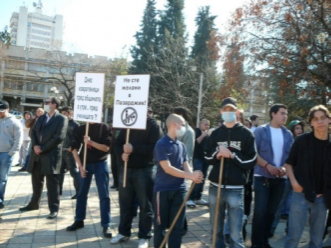 2010 – On this date in Bulgaria's capital Sofia, a tiny group of LGBT activists attempting to protest a new law banning open displays of homosexuality were surrounded and intimidated by almost 100 skinheads. As several of skin heads attacked the Gay rights activists they were immediately knocked down to the ground and arrested by the policemen guarding the rally, who were led personally by the head of the Pazardzhik Police Directorate, Commissar Stoyan Stoyanov. No-one was hurt during the skirmish. However, the anti-rally protestors shouted offensive slogans directed against the Gay rights activists such as "No one wants you, losers", "Out of Pazardzhik", "Go to Uganda, freaks".

MARCH 21 →
[{(o)}]|[{(o)}]|[{(o)}]|[{(o)}]| [{(o)}]|[{(o)}]