July 23
[{(o)}]|[{(o)}]|[{(o)}]|[{(o)}]| [{(o)}]|[{(o)}]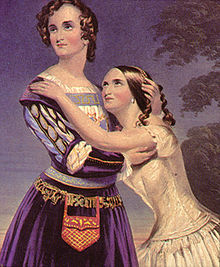 Charlote and Susan Cushman as Romeo and Juliet
1816 – Charlotte Cushman was born in Boston (d.1876). At the age of thirteen, her father underwent serious financial troubles and shortly after died, leaving his family with nearly nothing. This caused Charlotte to find her way to bring income to her family. Though Cushman was an incredibly great student and achieved much academically, she left school to pursue a career in the opera, but when her voice began to fail she turned to James H. Caldwell, manager of the principal theatre of New Orleans. She was advised by him and by Barton, the tragedian, to become an actress, and given the part of Lady Macbeth to study, in which she made her appearance with complete success in 1835.
After a successful season in New Orleans, she returned to New York City under contract with the Bowery Theatre. She scored a success to rave reviews in Albany, New York, again playing Lady Macbeth. In the following years she became America's foremost actress.
By 1839, her younger sister Susan Webb Cushman also became an actress. At the age of 14, she had married Nelson Merriman. Her husband abandoned her when she was pregnant and Charlotte cared for her sister. The two sisters became famous for playing Romeo and Juliet together, with Charlotte playing Romeo and Susan playing Juliet.
In 1843, Cushman became involved romantically with Rosalie Sully, a daughter of artist Thomas Sully. By 1844, the romance had ended. She began travelling abroad acting in theater, and Sully died shortly thereafter.
In 1848, Cushman met journalist, writer and part time actress Matilda Hays. The two women became close friends, and after a short amount of time and some correspondence, they became involved in a lesbian affair. For the next ten years the two would be together almost entirely. They became known for dressing alike, and in Europe were publicly known as a couple.
In 1854, Hays left Cushman for lesbian sculptor Harriet Hosmer, which launched a series of jealous interactions between the three women. Hays eventually returned to live with Cushman, but the tensions between her and Cushman would never be repaired.

By late 1857, Cushman was secretly involved with lesbian sculptor Emma Stebbins. One night while Cushman was writing a note, Hays walked in on her. Suspecting that the note was to Stebbins, Hays demanded to see it. Although Cushman maintained that the note was not to Stebbins, she refused to show it to Hays. The altercation that followed was implosive. Hays became enraged, and began chasing Cushman around the house pounding her at every opportunity with her fists. The relationship ended immediately, and Hays moved out. She then sued Cushman stating in her claim that she had sacrificed her own career to support Cushman's career, and therefore was due a certain payment. Cushman paid her an unknown sum, and the two women parted company forever
Emma Stebbins moved in with Cushman shortly after the break-up. Cushman traveled to America for a short tour a couple of months later. Although Cushman maintained that she was devoted to Stebbins, she became involved with another woman not long after her relationship with Stebbins began. Cushman met an 18 year old actress, Emma Crow, the daughter of Wayman Crow, and fell for her. The two women began an affair, and Cushman often called her "my little lover".
Before her departure to Italy, Cushman offered a farewell performance at the Washington Theater in the title role of Hamlet. The poster advertising her appearance describes her as "a lady universally acknowledged as the greatest living tragic actress".
When Cushman returned to Italy, Crow followed. Not long after arriving in Italy, Crow attracted the attention of Cushman's nephew, Ned Cushman. In April 1861, Ned Cushman and Emma Crow married.
In 1860 she again acted in New York, and appeared on several occasions for the benefit of the Sanitary Commission. During the last six year's of her life Cushman developed a remarkable ability as a dramatic reader, giving scenes from Shakespeare, ballad poetry, dialect poems, and humorous pieces with a success not less decided than her earlier dramatic triumphs. In 1871, after a residence in Europe, she resumed her career in the United States as a reader, besides fulfilling several dramatic engagements.
Her farewell appearance was announced at least seven times in as many different years. Her final performance in New York was at Booth's theatre, where she played the part of Lady Macbeth. She took a similar demonstrative farewell in the same character in Philadelphia and other cities, and her career closed in Boston, at the Globe Theatre, on 15 May 1875. After a reading-tour to Rochester, Buffalo, and Syracuse, she retired with a large fortune to her villa at Newport, where she was seized with her final illness, and in October went to Boston and placed herself under medical treatment.
In 1869, Cushman underwent treatment for breast cancer. Stebbins ignored her own sculpting career and devoted all of her time to caring for Cushman. Charlotte Cushman died of pneumonia in her hotel room in Boston in 1876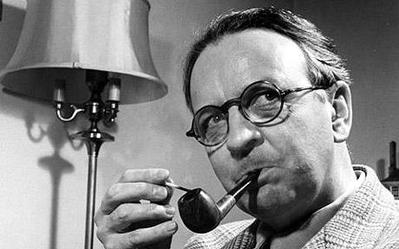 1888 – Raymond Chandler (d.1959) was a crime writer who had an immense stylistic influence upon the modern private eye story, especially in the style of the writing and the attitudes now characteristic of the genre. His protagonist, Philip Marlowe, is synonymous with "private detective" along with Dashiell Hammett's Sam Spade.
In 1932, at the age of forty-four, Chandler became a fiction writer after losing his job as an oil company executive during the Great Depression. Chandler's personal and professional life were both helped and complicated by the women to whom he was attracted – notably Helga Greene, his literary agent; Jean Fracasse, his secretary; Sonia Orwell (George Orwell's widow); and Natasha Spender (Stephen Spender's wife), the last two of whom assumed Chandler to be a repressed homosexual.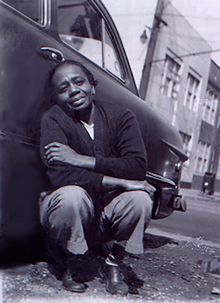 1899 – Ruth Ellis (d.2000) was an African-American woman who became widely known as the oldest surviving open lesbian, and LGBT rights activist at the age of 100, her life being celebrated in Yvonne Welbon's documentary film Living With Pride: Ruth C. Ellis @ 100.
Ellis was born in Springfield, Illinois, to Charlie Ellis and Carrie Farro Ellis. She was the youngest of four children in the family and the only daughter. Her parents were born in the last years of slavery in Tennessee.
Ellis' mother died when she was a teen. She came out as a lesbian around 1915, and graduated from Springfield High School in 1919, at a time when fewer than seven percent of African Americans graduated from secondary school.
In the 1920s, she met the only woman she ever lived with, Ceciline "Babe" Franklin. They moved together to Detroit, Michigan in 1937 where Ellis became the first American woman to own a printing business in that city. She made a living printing stationery, fliers, and posters out of her house.
Ellis and Franklin's house was also known in the African American community as the "gay spot". It was a central location for gay and lesbian parties, and also served as a refuge for African American gays and lesbians. Although Ellis and Franklin eventually separated, they were together for more than 30 years. Franklin died in 1973. Throughout her life, Ellis was an advocate of the rights of gays and lesbians, and of African Americans. She died in her sleep at her home on October 5, 2000.
The Ruth Ellis Center honors the life and work of Ruth Ellis, and is one of only four agencies in the United States dedicated to homeless LGBT youth and young adults. Among their services are a drop-in center, street outreach program, transitional living programs, and emergency housing shelter.

1909 – Samuel M. Steward (d.1993), also known by the pen name Phil Andros, was a novelist and tattoo artist based in Oakland, California. He was born in Woodsfield, Ohio and attended the Ohio State University. He began teaching English at OSU as a university fellow in 1932 during the final year of his PhD and was given his first post as a university professor in 1934 at Carroll College in Helena, Montana.
In 1936 he was dismissed from a position at the State College of Washington due to the portrayal of prostitution in his novel Angels on the Bough. He moved to Chicago, teaching at Loyola until 1946 and then at DePaul University. In 1954 he left teaching and, oddly, began tattooing in Chicago under the professional name Phil Sparrow.
Steward met famed sex researcher Alfred Kinsey around 1949 and became an unofficial collaborator, helping Kinsey find new contacts. In 1949, he participated in a BDSM scene for Kinsey to film, with a sadist that Kinsey flew in from New York. He said Kinsey was 'as approachable as a park bench' and described him as a liberating influence.
In the early 1950s he made pornographic drawings, many of them based on his own Polaroid photographs.
Steward maintained friendships with Gertrude Stein, Alice B Toklas, and Lord Alfred Douglas (the lover of Oscar Wilde). His 1981 memoir Chapters from an Autobiography detailed these relationships, as well as other experiences. He also edited the book Dear Sammy: Letters from Gertrude Stein and Alice B. Toklas, and wrote two 'Gertrude Stein-Alice B. Toklas Mysteries' featuring the famous couple as detectives. Steward was also introduced to Thornton Wilder by Gertrude Stein, who at the time regularly corresponded with the both of them. Wilder famously drafted the third act of Our Town during a brief affair with Steward in Zurich on their first meeting.
In the 1960s Steward began writing gay erotica under the name Phil Andros. His works dealt with rough trade and S&M sex. The name Phil Andros, which he used both as a pen name and the name of his protagonist, comes from the Greek words for love and man. He became one of the 20th century's greatest porn writers. Unlike modern gay porn, Steward's characters spouted Shakespeare while they screwed handsome young men. His descriptions of sex are among the most graphic in the language.
Steward uniquely regarded his skills as a man of letters, pornographer and tattoo artist with equal merit, symbolising some of the contradictions of gay male life as he made his contribution to defining the gay male identity in the twentieth century.
Steward died at age 84 of chronic pulmonary disease in Berkeley, California.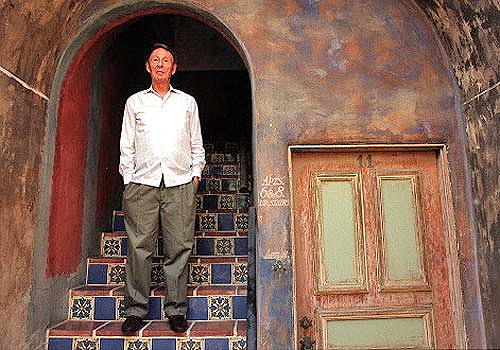 1924 – Gavin Lambert (d.2005) was a British-born screenwriter, novelist and biographer who lived for part of his life in Hollywood. Lambert was educated at Cheltenham and Oxford, where he became friends with filmmakers Karel Reisz and Lindsay Anderson. At Oxford he also founded, together with Reisz and Anderson, the short-lived but influential journal, Sequence, which he co-edited with Anderson. From 1949 to 1955 he edited the periodical Sight and Sound, with Anderson as a regular contributor. He also wrote film criticism for The Sunday Times and The Guardian. In 1957 he moved to Hollywood, California, in order to work there as a screenwriter and personal assistant to director Nicholas Ray, whose movie Bitter Victory (1957) he co-wrote. He claimed he became Ray's lover for a period of time.
Lambert became a notable screenwriter of the Hollywood studio era. In 1954, while still living in England, he wrote his first screenplay, Another Sky, about the sexual awakening of a prim English woman in North Africa. In 1955, he also directed Another Sky in Morocco. This was followed in 1958 by the Hollywood screenplay, Bitter Victory and in 1960 by Sons and Lovers, based on the novel by D. H. Lawrence, for which Lambert gained an Academy Award nomination. The Roman Spring of Mrs Stone (1961), adapted a novella by Tennessee Williams on the affairs of an older actress with a young Italian gigolo.
As, from the 1920s through the late 1960s, homosexuality was rarely portrayed on the screen, gay screenwriters like Lambert learned to express their personal sensibilities discreetly between the lines of a film. It was not until 1965 that Lambert adapted his own Hollywood insider novel Inside Daisy Clover (1963) for the screen. Clover, starring Natalie Wood and Robert Redford, tells the cautionary tale of a teenage movie star involved in the Hollywood studio system of the 30s and her unhappy marriage to a closeted gay leading man. However, in the film version he was not fully identified as gay because at Redford's request, the husband he played was changed from homosexual to appear as though he might be bisexual.
Later, the author also wrote the scripts for some TV movies such as Second Serve (1986) on transgender tennis player Renee Richards, and Liberace: Behind the Music (1988). In 1997, he contributed to Stephen Frears' film A Personal History of British Cinema. He was heavily quoted in William J. Mann's book, Behind the Screen: How Gays and Lesbians Shaped Hollywood, 1910-1969.
Lambert was also a noted biographer and novelist, who focused his efforts on biographies of gay and lesbian figures in Hollywood. He wrote biographies on some Hollywood stars, such as George Cukor and Norma Shearer. His book, Nazimova: A Biography (1997) was the first full-scale account of the private life and acting career of lesbian actress Alla Nazimova. He was the author of the memoir Mainly About Lindsay Anderson (2000) and wrote seven novels primarily with Hollywood settings including Inside Daisy Clover (1963), The Goodbye People (1971) about Hollywood's beautiful people, and Running Time (1982), a portrait of a woman from child starlet to screen goddess, but also a unique life history of the American film industry. In 1996, Lambert wrote the introduction to 3 Plays, a collection of works by his longtime friend, Mart Crowley.
His final biography, Natalie Wood: A Life (2004) supplied an insider's look at actress Natalie Wood and chronicled everything concerning her life, as Lambert was a Wood friend for 16 years. In his book, Lambert controversially claimed that Wood frequently dated gay and bisexual men, including director Nicholas Ray and actors Nick Adams, Raymond Burr, James Dean, Tab Hunter and Scott Marlowe. Lambert said he was also involved with Ray and that Wood supported gay playwright Mart Crowley (a later lover of Lambert's) in a manner that made it possible for him to write his play, The Boys in the Band (1968). Lambert's final book was The Ivan Moffat File: Life Among the Beautiful and Damned in London, Paris, New York and Hollywood (2004).
Gavin Lambert became an American citizen in 1964. From 1974 to 1989, he chiefly stayed in Tangier, where he was a close friend of the writer and composer Paul Bowles. He spent the final years of his life in Los Angeles, where he died of pulmonary fibrosis on July 17, 2005. He named Mart Crowley executor of his estate.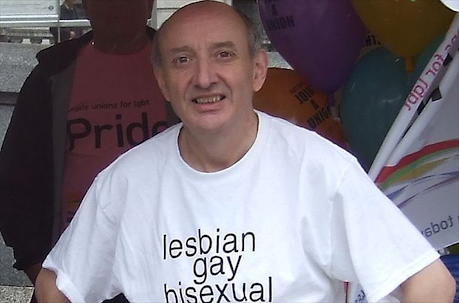 1950 – Paul Patrick (d.2008) was an British teacher and leading lesbian, gay, bisexual and transgender (LGBT) rights activist. He was openly gay and focused on homophobia in the public and voluntary sectors, particularly in the education system.
He came out in 1969 and went on to become a teacher in 1972 at the Roger Manwood School, Lewisham.He became Head of Drama and a member of the teachers' advisory panel for Greenwich Young People's Theatre in Education Company and worked with the teachers and advisors who produced the Inner London Education Authority's "Drama Bulletin." He went on to work with several other educational institutions and authorities.
In 1974, Paul Patrick co-founded the Gay Teachers' Group, and was its secretary until 1982.He was the first teacher in the UK to come out to parents and pupils and retain his job, and went on to be promoted. He then became the first single gay man to be allowed to foster a young heterosexual man, Roger Waters, one of his pupils.
In his work, he addressed the International Conference of Teachers of English, been the UK representative at an international conference held in Finland on the development of lesbian and gay issues in the curriculum, and been a member of the National Union of Teachers.
Since 2004, he was a member of the Steering Group of LGBT History Month (UK) for which, together with a team of teachers, he created and vetted lessons and assembly suggestions. He also toured the country promoting LGBT History Month to a wide range of groups and organisations.
in May 2002, he nominated himself to appear in the list being compiled by The Guardian of the people who have done most to shape Britain during the Queen's reign. He stated as his reasons:
[I have] been a queen for 50 years, although under somewhat less privileged circumstances. As Britain's first openly gay teacher not to be fired or moved to a 'safe' position and as a campaigner for lesbian, gay and bisexual equality for more than 30 years, I feel I have contributed a lot more to Britain than that other Queen has. I am also more attractive and a lot more fun!
Paul Patrick died on 22 May 2008 after a long battle with a chronic lung condition . He was working on Biting the hand that feeds me!, his autobiography.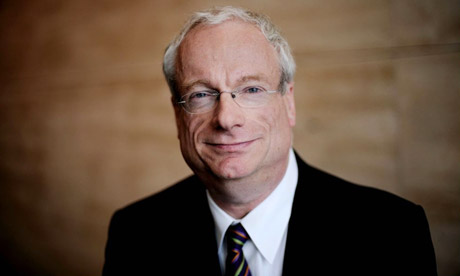 1951 – (Christopher Robert) Chris Smith, Baron Smith of Finsbury, is a British Labour Party politician and former Member of Parliament and Cabinet minister.
Born in Barnet, Chris Smith attended Pembroke College, Cambridge, where he gained a first class honours degree in English and a PhD with a thesis on Coleridge and Wordsworth, and was president of the Cambridge Union Society. He worked for a housing charity and became a councillor in the London Borough of Islington before narrowly winning the seat of Islington South & Finsbury at the 1983 General election, defeating George Cunningham.
In 1984 he became Britain's first openly gay MP. There had been several gay MPs before this where their homosexuality had been common knowledge in some circles, including their constituents in some cases but they had not been completely open about it. During a rally in Rugby, Warwickshire against a possible ban on gay employees by the town council, he began his speech: 'Good afternoon, I'm Chris Smith, I'm the Labour MP for Islington South and Finsbury and I'm gay.'
He became an opposition whip in 1986, a shadow Treasury minister from 1987 to 1992, and shadowed the environment, heritage, pensions and health portfolios between 1992 and 1997. In 1997 he was appointed to Tony Blair's Cabinet as the first Secretary of State for Culture, Media and Sport. As a Minister known to have a close connection with the UK arts scene his time at DCMS is generally regarded as a success as many projects funded through the National Lottery came to fruition. In 2000 he managed to secure a tax rebate that enabled many museums to give free admission. He held this position throughout the Labour government's first term, but was sacked and returned to the back benches after the 2001 election. Tony Blair later hinted at his regret at losing Smith's services, particularly his strong relationship with the arts world.
On 30 January 2005 Chris Smith revealed to the Sunday Times that he had HIV and was first diagnosed in 1987. He stated that he had decided to go public following Nelson Mandela's announcement of his son's death from AIDS. Private Eye, however, maintained that the genuine reason for Smith's decision to go public was taken in light of the fact that The Mail on Sunday had contacted him and told him it was preparing a story about his condition.
After over 20 years in Parliament, Smith stepped down from the House of Commons at the 2005 general election. It was announced on 30 April 2005 that he was to be created a life peer, as Baron Smith of Finsbury, of Finsbury in the London Borough of Islington. He took up a position as Director of the Clore Leadership Programme, an initiative aimed at helping to train and develop new leaders of Britain's cultural sector. He is also currently a board member of the Royal National Theatre and Chairman of the Wordsworth Trust.
Smith is a keen mountaineer and in 2004 he was elected as the Ramblers' Association President. He is also a patron of London-based HIV charity, The Food Chain.
In 2005, Smith entered a civil partnership with Dorian Jabri, his partner since 1987. The couple separated amicably in 2012.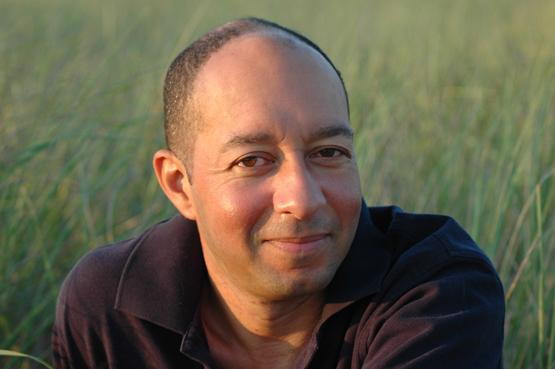 1959 – Carl Phillips is an American writer and poet. He is a Professor of English and of African and Afro-American Studies at Washington University in St. Louis.
He was a child of a military family, moving year-by-year until finally settling in his high-school years on Cape Cod, Massachusetts. A graduate of Harvard University, the University of Massachusetts Amherst, and Boston University, Phillips taught high-school Latin for eight years.
His first collection of poems, In the Blood, won the 1992 Samuel French Morse Poetry Prize, and his second book, Cortege, was nominated for a 1995 National Book Critics Circle Award. His Pastoral won the 2001 Lambda Literary Award for Gay Poetry.


Added 2021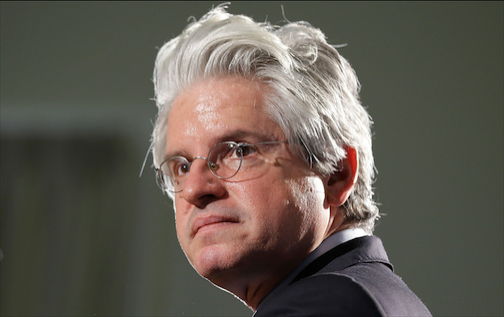 1962 – David Brock is an American liberal political consultant, author, and commentator who founded the media watchdog group Media Matters for America. He has been described by Time as "one of the most influential operatives in the Democratic Party".
Brock began his career as a right-wing investigative reporter during the 1990s. He wrote the book The Real Anita Hill and the Troopergate story, which led to Paula Jones filing a lawsuit against Bill Clinton. In the late-1990s, he switched sides, aligning himself with the Democratic Party and in particular with Bill and Hillary Clinton.
In 2004, he founded Media Matters for America, a non-profit organization which describes itself as a "progressive research and information center dedicated to comprehensively monitoring, analyzing and correcting conservative misinformation in the U.S. media". He has since also founded super PACs called American Bridge 21st Century and Correct the Record, has become a board member of the super PAC Priorities USA Action and has been elected chairman of Citizens for Responsibility and Ethics in Washington (CREW).
Brock was formerly the domestic partner of William Grey; Fox News reported that their relationship ended in a bitter, three-year-long legal battle in which "Brock and Grey traded angry accusations, ... replete with charges of blackmail, theft and financial malfeasance" related to a house in Rehoboth Beach, Delaware that the two once shared. The news channel further reported that Grey filed a lawsuit against Brock in January 2011, and Brock countersued Grey in March 2011. The dispute was settled at the end of 2011 on confidential terms.
On March 22, 2017, Brock suffered a heart attack while at work at Media Matters headquarters; he was expected to fully recover.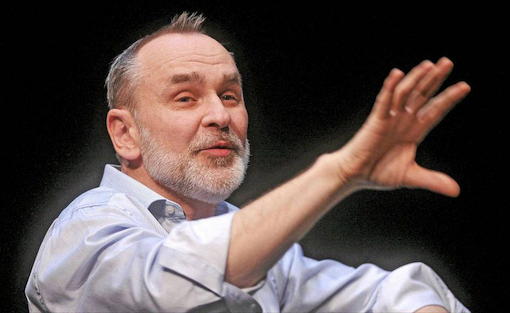 1962 – Daniel MacIvor is a Canadian actor, playwright, theatre director and film director. He was born in Sydney, Nova Scotia and educated at Dalhousie University in Halifax, and then at George Brown College in Toronto, Ontario.
MacIvor started the theatre company da da kamera in Toronto - in residence at Buddies in Bad Times Theatre – for whom he has written, directed, and acted. He is now one of Canada's best known playwrights. His plays include Never Swim Alone, This is a Play, Monster, Marion Bridge, You are Here, Cul-de-sac, and A Beautiful View. Five of MacIvor's plays were published as I Still Love You in 2006, in celebration of the twentieth anniversary of da da kamera, and won MacIvor a coveted Governor General's Award for Drama.
Recently, MacIvor has written, co-written and directed several independent films, which are usually made in his home province of Nova Scotia. They include Past Perfect, Marion Bridge, Whole New Thing and Wilby Wonderful. His appearances include The Five Senses.
MacIvor is particularly well known for a series of solo shows created in collaboration with director Daniel Brooks. These include House, Here Lies Henry, Monster and Cul-de-sac. In House and Here Lies Henry, MacIvor portrays one character who speaks directly to the audience, acknowledging their presence. While the direct address of the audience continues in Monster and Cul-de-sac, MacIvor portrays several characters throughout the course of the piece and this direct address is occasionally broken up by dialogue between these characters.
The first three of these pieces were staged at Buddies in Bad Times Theatre in the 2006/2007 season as part of a tribute and retrospective of da da kamera's work.
Monster and MacIvor's performance in it in 1998 - describing gruesome dismemberment, child abuse and characters steeped in misanthropy and alcoholism - rank right up there with Anthony Hopkins's chilling turn as Hannibal Lecter when it comes to looking deep inside the blackest parts of the human soul.
"I think the theatre helps me," is how MacIvor reasons his way through it. "My solo shows become a series of exorcisms."
"Come to think of it, the theatre saved my life," he says, with a sense of realization. "It allowed me an outlet for anger and frustration. It gave me a way out."
The place he had to get out of was Sydney, N. S., where he was born in 1962.
"There are only three gay people from Cape Breton," he quips, "me, (playwright) Bryden MacDonald and a guy named Ray."
MacIvor has also never been reluctant to admit he's gay, but somehow the title of "gay playwright" hasn't been affixed to him and that's a freedom he enjoys.

1986 – The Weekly News, Florida's gay newspaper for decades, reported that Bell South rejected a phone book ad for the newspaper because the use of the word gay was "potentially offensive."

1987 – At its national convention in Miami, Florida, The Catholic Gay organization Dignity voted to peacefully challenge the Vatican's Ratzinger letter that referred to homosexuality as "a strong tendency to behavior which is intrinsically evil." It opposed civil rights for gays and lesbians, barred churches from allowing organizations that do not agree with church teachings on homosexuality from using church facilities, and suggested that anti-gay violence should not come as a surprise to society. On the same day in San Francisco, several groups protest the Pope's visit, including the Sisters of Perpetual Indulgence and Jewish holocaust survivors.

1987
–
President Ronald Reagan
announces the formation of a presidential commission on AIDS. None of the 13 members was an expert on AIDS. It includes
Richard DeVos
, political ally of
Pat Robertson
; homophobic New York Archbishop
John Cardinal O'Connor
; and
Penny Pullen
, an associate of homophobe
Phyllis Schlafley
. Conservatives had a hissy-fit over the selection of
Dr. Frank Lilly
, a medical researcher who says that "As far as I know, I'm the only gay on the panel." It was viewed as an embarrassment by medical authorities, a joke by the gay community, and a fiasco by several members of the Reagan administration.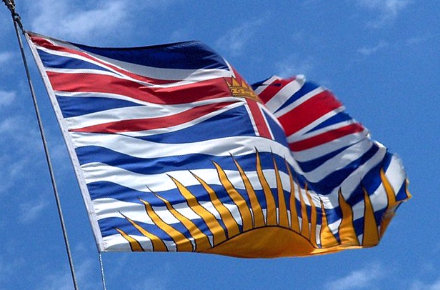 2001 – Eight British Columbia couples take the fight for legalized gay and lesbian marriage to the BC Supreme Court arguing the federal definition of marriage as being between a man and a woman bans gays and lesbians from marrying and is therefore unconstitutional.

JULY 24 →
[{(o)}]|[{(o)}]|[{(o)}]|[{(o)}]| [{(o)}]|[{(o)}]